Ellis Short: Sunderland chairman dismisses spending criticism
Last updated on .From the section Football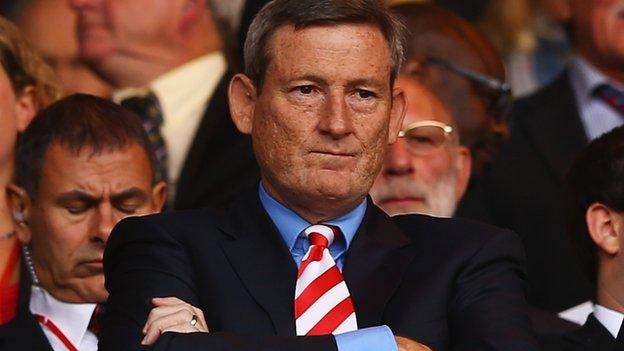 Sunderland chairman Ellis Short says suggestions he will not spend money on the team are "completely wrong".
Fans chanted "Are you watching Ellis Short?" during last Saturday's defeat at home to Norwich, arguing that he should back manager Dick Advocaat more.
Advocaat has refused to criticise the chairman, but said on Friday he needed "five or six new players".
"I have never taken money out of the club," Ellis wrote in the programme for Saturday's match against Swansea.
"In fact, I have funded significant shortfalls each and every season."
Short said the club had paid out £21.5m in the transfer market this summer, but acknowledged that it had not been spent well.
He wrote: "Has the money been spent wisely? No - that much is clear and ultimately that is my fault. But it is not a result of lack of ambition or commitment."
Short also called for an apology from former Black Cats defender Michael Gray, who said in a radio interview that the chairman had lied to fans by breaking promises regarding transfer activity.
"Michael Gray made quite a serious accusation claiming that I have lied to supporters," Short wrote.
"I have not. Michael Gray should admit that he was wrong."