Kano Pillars: Nigerian Premier League side's unbeaten record ends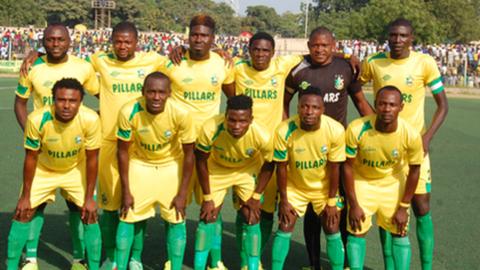 Kano Pillars' 12-year unbeaten home record in the Nigerian Premier League came to an end on Sunday as they lost 2-1 to Nasarawa United.
Goals from ex-Pillars player Manir Ubale and Bature Yaro inside 16 minutes stunned the hosts and Rabiu Ali's second-half strike was not enough.
That result saw four-time champions Kano lose at home for the first time in 202 matches at the Sani Abacha stadium.
"If anything we should celebrate today for the record," Kano said on Twitter.
The result was a blow for former Nasarawa United coach Baba Ganaru, who left the club for a return to Pillars in July.
Nasarawa United are now eighth in the 20-team table - ten points behind leaders Sunshine Stars and below sixth-placed Pillars - with eight games to go in the 2014/15 season.
It has also been 12 years, two months and two days since their last home defeat by the same scoreline to Julius Berger [now Bridge FC] on 21 June 2003.
Pillars have a slogan in their native Hausa language, 'Sai Masu Gida', which translates as, 'Up the home owners'.
Nicknamed 'Masu Gida', the secret of the club's dominance at home includes solid financial backing, quality of players signed, the continuity that ensured the coaching staff were renewed from within and the winning mentality that was passed on from one generation to the next.
But perhaps the most significant element of all in the Pillars' success story is their passionate crowd, with more than 23,000 screaming fans at the stadium.