Tom Boyd: Celtic must improve passing in Champions League play-off

By Kenny Crawford
BBC Sport Scotland
Last updated on .From the section Football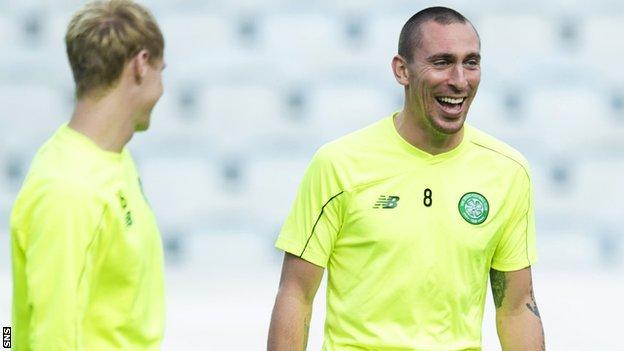 Former captain Tom Boyd believes more precise passing is required from Celtic if they are to progress to the Champions League group stage.
Celtic lead 3-2 going into Tuesday's play-off second leg against Malmo in Sweden but the quality of their defending was questioned.
"There have been too many slack passes which allow the opposition to hit quickly," Boyd told BBC Radio Scotland.
"Unfortunately, on too many occasions they've been punished for that."
Boyd made over 300 appearances for Celtic between 1992 and 2001, captaining the Glasgow club for five years.
The former Scotland international applauded Celtic's defensive record last season and at the beginning of this campaign, but feels it has faltered in the last few games.
"I think it's a style of football that the manager wants to play - heavily on the levels of possession," said Boyd.
"Against Malmo, Scott Brown, rather than just clearing it, [attempted to] play it wide and then we got punished by that. I think it's just the style that the manager wants; to get the ball down.

"If you've got that and want to play it well, you've got to be crisp with your passing."
Approximately £15m of income rests on the second leg at the Swedbank Stadion, as well as the prestige of playing top level European football.
Celtic are guaranteed six Champions League group games by emerging victorious in Malmo.
"There is a tension with the build-up to the game, the importance of the game and the financial aspects of the game," said Boyd, who won 72 Scotland caps.
"But the best place to be for the players is on the pitch. I remember playing in so many important games and all the build-up and tension affected you, but once you got on the football park that sort of left you because you were then able to concentrate on your game."
Mind games have been evident from players and officials of the clubs ahead of the match in Scandinavia.
"Yes, these are techniques used by some managers," added Boyd. "But if you need a motivational technique in a game of this importance and stature then you shouldn't be playing the game of football.
"The rewards are there for the football club and even the players will be on bonuses that will massively enhance their wage packet - so that's your motivational technique."