Fear not an issue for Celtic in Malmo, says Kris Commons
Last updated on .From the section Football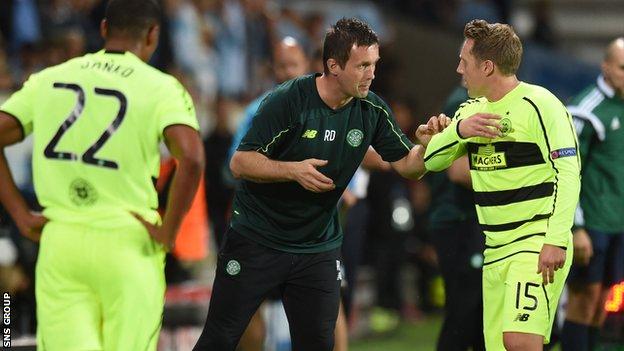 Kris Commons insists fear was not a factor in Celtic's Champions League play-off loss to Malmo.
"We have lads that have played in the Champions League, Europa League, international football," said Commons, a second-half substitute.
"This was a big game but I wouldn't say there were boys that were scared of the challenge."
Having lost 4-3 on aggregate, Celtic miss out on the group stage of European football's top competition for the second year in a row.
Asked to comment on Deila's remarks, Commons replied: "I don't think we were playing with fear.
"I think when you've just got the one goal [lead] you're thinking 'a clean sheet or a draw and you're through'.
"They [Malmo] came in needing goals and came out on the front foot whereas we were perhaps just trying to do enough to keep a clean sheet."
Celtic had a goal disallowed in the first half after Nir Bitton was judged to have committed a foul and Commons believes that decision had a major bearing.
"I think if we'd have come in at half time 1-1 then it puts a whole different complexion on the game," he explained.
"We would've just needed to keep a clean sheet for 45 minutes. But coming in at half time knowing we had to go and get a goal we started to become disgruntled. We knew the magnitude of the game and it led to us chasing the game and starting to make silly mistakes.
"Once they scored we began to take chances. Second half, they sat in and defended their own 18 yard line and tried to hit us on the counter-attack."
Captain Scott Brown said in the aftermath of the defeat that he was "ashamed" of the performance.
But, again, Commons took a different view.
"That's Scott's opinion," he said. "I'm not ashamed. I gave my all. I tried my best. Sometimes that's just not good enough.
"I'm bitterly disappointed and angry. I feel like it's a good opportunity missed.
"At this level, if you're not quite at the races, you get punished no matter what team you play."