Jordan Stewart: Swindon Town signing on rise to prominence
Last updated on .From the section Swindon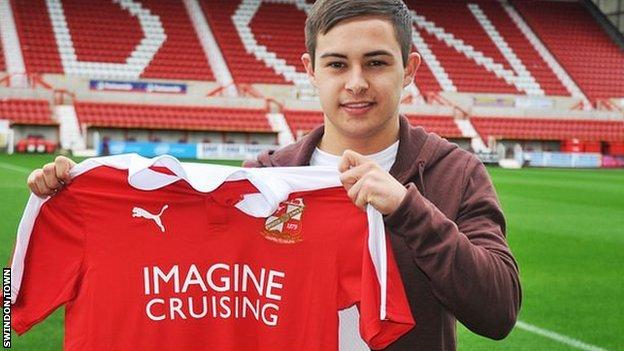 Jordan Stewart has worked as a kitchen porter, domestic cleaner and labourer.
In fact, his rise to prominence has been so rapid, he was washing dishes in a hospital kitchen when he heard news of his move to the League One club.
"I got the call and had to get out of work early so I could get a flight to sign," Stewart told BBC Wiltshire.
Northern Ireland's Stewart shot to fame this month after scoring a goal for Glentoran that went 'viral' online.
He described it as a "hit-and-hope" moment, adding: "I just thought I'd have a shot. You put enough of them over the bar so one is bound to go in. I was lucky enough that one hit the back of the net."
Stewart now finds himself plying his trade at the County Ground, after years of odd jobs as he pursued his dream of playing football full-time.
He said: "I had a number of jobs. The day I signed here I was actually in work. I was working in the (Belfast) city hospital as a kitchen porter.
"When you are not a footballer, you need to make money somehow.
"It's been a big change. It's something I always wanted to do. I'm overwhelmed."
He added: "I told the people I worked with and then told my bosses and they were more than happy for me to leave there and then. They knew how big an opportunity it was and I don't think anyone would say 'you're not getting out until 5pm'.
"Since I was very young I wanted to play football professionally and I'm lucky I've got the opportunity. It was on-off and then got the call that everything had been finalised, so it dragged out for a week but we got there in the end.
"Hopefully I can break into the team and help them as best as I can."