Aaron Doran injury setback for Inverness

By Martin Dowden
BBC Scotland
Last updated on .From the section Football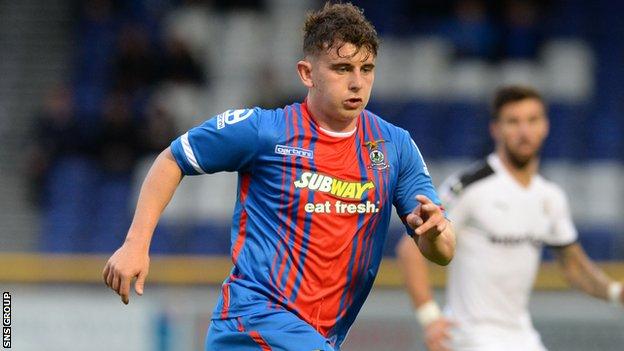 Inverness CT manager John Hughes is worried Aaron Doran may miss the rest of the campaign with a knee injury.
The 24-year-old Irish winger faces at least six months out as he recovers from surgery on a dislocated kneecap.
"It's a massive blow," said Hughes. "It was a big season for Aaron in terms of being the last year of his contract.
"We just decided to go and get the operation and it's going to be six months to nine months which will probably rule him out of the season."
Doran's injury adds to an extensive list that's grown since the start of the season, with key players Gary Warren, Josh Meekings and Dean Brill also sidelined.
"He's one who plays between the lines," added Hughes on Doran. "He takes it on the back foot and can get at teams.
"We just felt Aaron Doran playing every week, on form, he would get double figures. We're going to miss that.
"His knee was bothering him, he went down for a scan and before we knew it he was in a lot of trouble, more than we thought."
Inverness have yet to record a win this season with only two points from their opening five fixtures.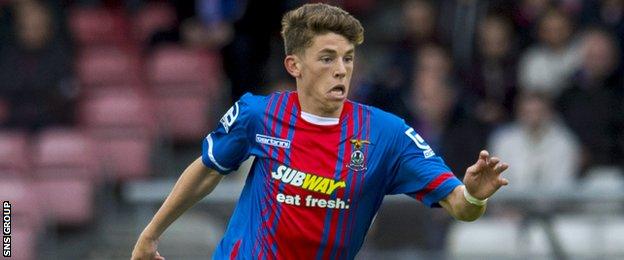 With just three goals so far this season, Hughes is hoping he can bring in another striker, but securing one is proving difficult.
"I get exasperated," Hughes conceded. "We felt we might have got one in on Saturday and he doesn't want to come to Scotland. It's very frustrating.
"I'm not hiding the fact that we need a striker up front, either a target man or a runner that can chase lost causes just to stretch the game a little bit."
With Dundee United having a bid accepted by Wigan for former Caley Thistle striker Billy Mckay, Hughes accepts that he cannot compete.
"Knowing the deal Billy McKay's on and the fee they're going to have to pay for him, Dundee United must be paying out some money to go and get him," he said.
"That's the market they're in, we're not in that market. We have to go and try and find the next Billy McKay."
There has been speculation surrounding the future of Ryan Christie but Hughes refused to confirm whether there had been solid interest in the 20-year-old.
"He's a talented footballer," he said. "It wouldn't surprise me if teams were sniffing about him but right at this moment he's still here at Inverness.
"The ideal scenario would be if he ever did move we'd try and keep him here [on loan] just to buy ourselves time and keep that quality at the club. We are a selling club. We'd never step in anybody's way."