Michel Platini to quit as Uefa president if Fifa bid fails
Last updated on .From the section European Football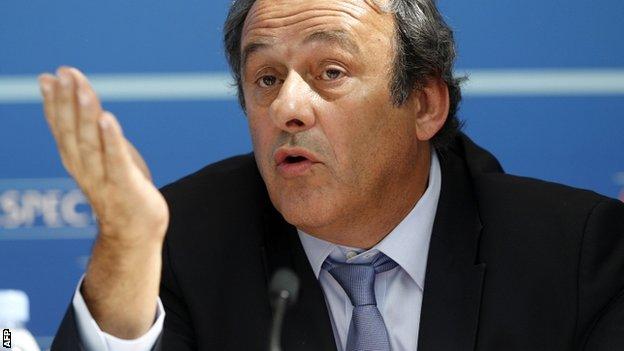 Michel Platini has announced he will step down as Uefa president in 2019 if he fails to win Fifa's top job in next February's election.
At a Uefa news conference, Platini refused to speak about his campaign for the Fifa presidency - a move to avoid suggestions he is using Uefa resources in a bid to succeed Sepp Blatter.
Asked if he would leave Uefa if he fails to win the Fifa election, Platini said: "Yes. I'm stopping then. That means I may support a limit to the time in office as president."
Platini, 60, apologised for not answering questions about the world governing body ahead of the presidential elections to be held on 26 February.
The Frenchman had originally planned to detail his blueprint for Fifa's future, but having already complained about an apparent smear campaign emanating from Fifa headquarters, Platini ensured he did not give ammunition to his rivals.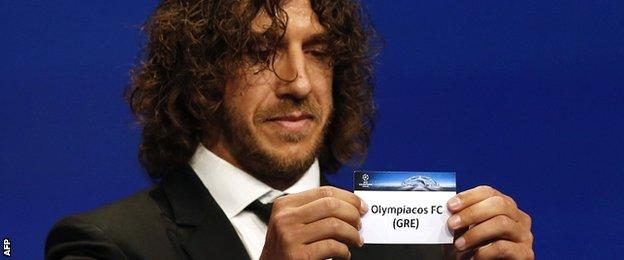 Platini backs Olympiakos inclusion
Platini defended Uefa's decision to allow Greek side Olympiakos into the Champions League despite their owner facing match-fixing allegations.
He insisted Uefa was not conflicted by its deputy general secretary being the son of an Olympiakos vice-president and explained that the same charge could be levelled at him having played for Juventus - a club who have also been the subject of match-fixing allegations in the past.
Platini also spoke glowingly about English clubs' financial success - something of a departure given the fact that in the past he has raised fears about the growing gap compared to the rest of Europe.
He said: "English football has seen great investment and tremendous income - it has very good partners and British supporters are some of the best in the world and they watch very good football."