Louis van Gaal hopes Man United show progress at Swansea
Last updated on .From the section Football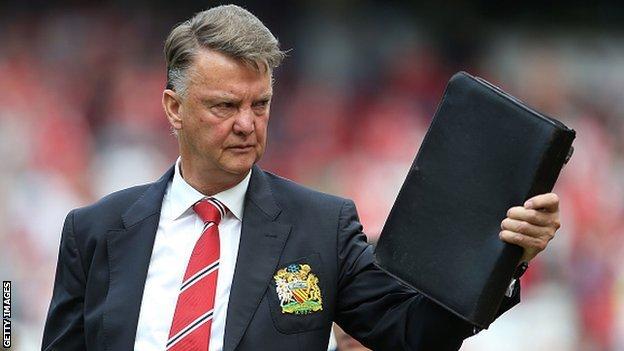 Manchester United manager Louis van Gaal hopes his side will show how much they have progressed when they face Swansea in his 50th match in charge.
Van Gaal's side lost 2-1 to the Welsh club at Old Trafford in his first competitive game on the opening day of the 2014-15 Premier League season.
United also lost by the same score at the Liberty Stadium in February.
"My first match was against Swansea and we lost. Now I have my 50th and I hope we can show we have improved," he said.
United's defeat at Swansea last season ensured the Welsh club did a league double over the Red Devils for the first time.
The 64-year-old Dutchman says he is determined for his side to make amends for that disappointment.
"We are better prepared this year," he said. "I don't want to lose again.
"It's the only club we could not beat or gain one point against last season. I hope we can improve and that we can show we are better than last year."
Van Gaal cagey on transfers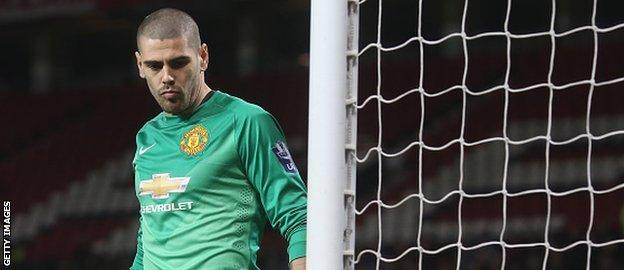 Speaking at his pre-match news conference, Van Gaal was reluctant to be drawn on questions concerning possible transfer incomings and outgoings at Old Trafford.
"When we want to do announcements, we shall do it, not when you ask us," he said
When asked specifically about 33-year-old goalkeeper Victor Valdes, who has fallen out of favour at Old Trafford, the former Netherlands coach was equally curt with his response.
He added: "When we want to say anything, then we say it, but not at the moment. We shall do announcements when we want to."
Champions League draw
Van Gaal appeared satisfied after United were drawn with PSV Eindhoven, CSKA Moscow and Wolfsburg in the group stage of Champions League.
"It could be worse, but it could be better also," he said.
He revealed that Marcel Bout, who scouts United's opposition, is already planning to watch matches involving Wolfsburg and PSV.
"PSV have to play Feyenoord, so that's a big match in Holland," said Van Gaal. "We have to analyse now."