Jerome Valcke: Fifa secretary general considers presidency bid

By Richard Conway
BBC Radio 5 live sports news correspondent
Last updated on .From the section Football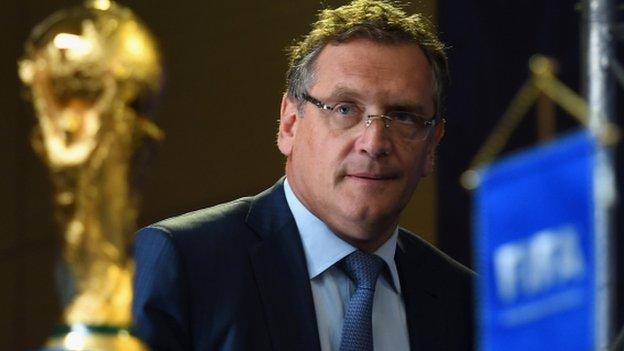 Fifa secretary general Jerome Valcke could stand as a candidate in the forthcoming Fifa presidential election.
BBC Sport understands he has approached at least one regional confederation and a national association to gauge the support he would receive.
Valcke has also held talks with several Fifa officials.
It is believed some senior figures within the governing body are dismayed at the prospect of his candidacy and have advised him against running.
The advice is due in part to the negative message they believe it would send to the United States Department of Justice, which is investigating Fifa and a number of football officials in connection with allegations of bribery, racketeering and corruption.
With Fifa attempting to demonstrate to US prosecutors that it is serious about reform, it is felt that Valcke's presence in the race would undermine such efforts.
It is unknown if the Frenchman has reached a final decision.
Valcke has faced scrutiny in recent months over his role in an alleged $10m (£6.5m) bribe.
United States prosecutors say the money was paid by South Africa to former Fifa vice president Jack Warner in return for his vote and backing during their successful bid to host the 2010 World Cup.
The money is said to have been transferred to Warner from a Fifa bank account after being reappropriated from South Africa's World Cup local organising committee budget.
The New York Times and other US media, citing US law enforcement sources, have claimed Valcke was the "high-ranking Fifa official" who signed off the payment.
South Africa denies any claims of corruption and insists the money was intended to aid football development in the Caribbean.
Valcke has not been accused of any wrongdoing. He strenuously denies any culpability and therefore sees no impediment on running for the Fifa presidency.