Jermain Defoe: Sunderland striker defends personal assistant job ad
Last updated on .From the section Football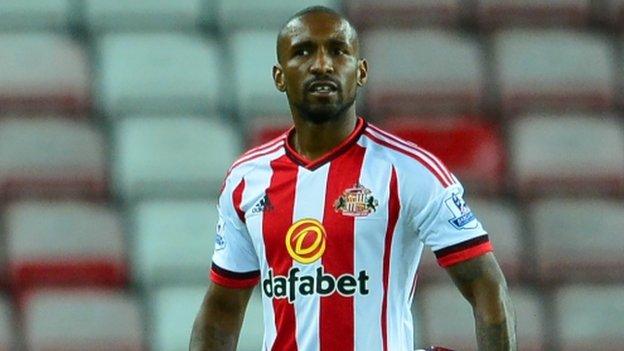 Sunderland striker Jermain Defoe has hit back at the criticism levelled at him following his advertisement for a personal assistant.
The range of duties included marketing, brand awareness and organising events along with watering the plants and ensuring the fridge was fully stocked.
"The job would support my family who have been trying to run my foundation," he told the Northern Echo.
"It's things like organising the gala dinners to try to raise funds, organising the trips to St Lucia so I can do my charity work and get the people over there who are needed to make the whole thing run.
"I don't see why it's such a big deal. To be honest, I wouldn't have called it a PA because I'm not someone who would ever say, 'Oh, this is my PA'. But that's not to say I don't need someone to help my family do some of the things I can't."
Defoe said he had not seen the advert for what was described as a "24/7 Personal Assistant" before it was published on a secretarial website.
The ad required the successful applicant to create "a global brand for the Jermain Defoe name" and help launch a new app alongside "potential projects", including the creation of a new clothing/ fragrance line.
Defoe added: "I'll hold my hand up - I can't do admin or accounts or stuff like that. I need help to do that, and hopefully that help will in turn help to change lives in St Lucia.
"That's my passion away from football, but I need help to do that.
"Am I really doing something that bad? A boy from East London trying to get on in life and do good things?
"I've read that I can't do this or can't do that, but yeah, I do pack my own fridge, and yeah, I do go and get the shopping near where I live, most days with my girlfriend."