Louis van Gaal consults Wayne Rooney about Man Utd team
Last updated on .From the section Football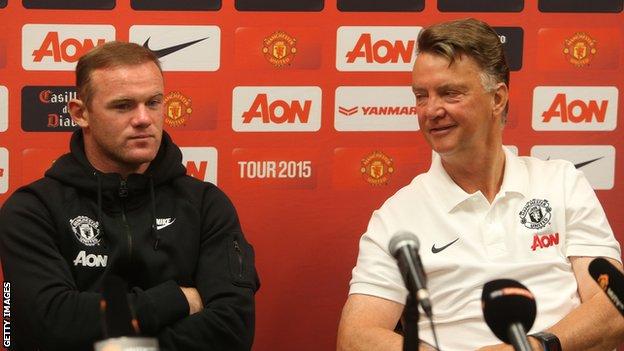 Manchester United manager Louis van Gaal says he speaks to striker Wayne Rooney about team selection.
England captain Rooney is in his 12th season at the club, and was also named captain at Old Trafford last year.
Van Gaal believes he can trust the 29-year-old to give an honest opinion on a wide range of topics - even cooking.
"Things like the selection and the kitchen and the members of the staff, everything you can mention, he is involved," Van Gaal said in the Sun.
"I think he trusts me so that is also very important and I trust him. So when he comes to me and has remarks I always pay attention."
Rooney has started every Manchester United game so far this season and scored his first goals of the campaign in the 4-0 Champions League qualifying play-off win at Club Brugge on Wednesday.
Rooney at Old Trafford
Wayne Rooney has scored 233 goals for Manchester United. He needs four more to equal Denis Law's total of 237 and 16 to equal the club's all-time top scorer - Sir Bobby Charlton
He has won five Premier League titles, the Champions League and two League Cups in his 11 years at the club