Man Utd: Wayne Rooney needs new strike partner - Jason Roberts
Last updated on .From the section Football

There is absolutely no doubt in my mind that Manchester United need to buy a new striker before the transfer window shuts on Tuesday.
To have a chance of finishing in the top four, and qualifying for the Champions League, they need a top-class striker who can run - someone fast and mobile enough to stretch opposition defences.
Wayne Rooney is still a wonderful forward player, but he is not that man.
In an ideal world for Rooney and United, when the Premier League restarts after the international break, he will still be an integral part of their attack - but as a number 10, with a new number nine playing in front of him.
Rooney lacking in self-belief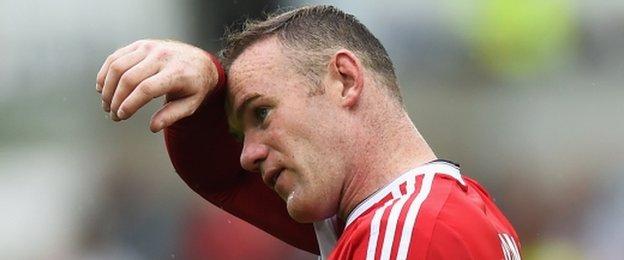 Rooney is 30 in October but he is no slouch and he is still a top-level striker.
At the moment he is 75 goals short of Alan Shearer's all-time record of 260 Premier League goals, and I still think he has a very good chance of going on to beat it.
He showed what a good finisher he is with his hat-trick against Club Brugge on Wednesday, and I was expecting him to be full of confidence after that.
Instead, against Swansea he played like a man who had not scored in nine league games. When he was in on goal, he wanted to take that extra touch and be sure of the situation. Basically he was over-thinking things.
As a striker when I was on a run without scoring, the chances I wanted were the instinctive ones - like the ones Rooney took against Brugge. When you are out of form, you do not want time in front of goal.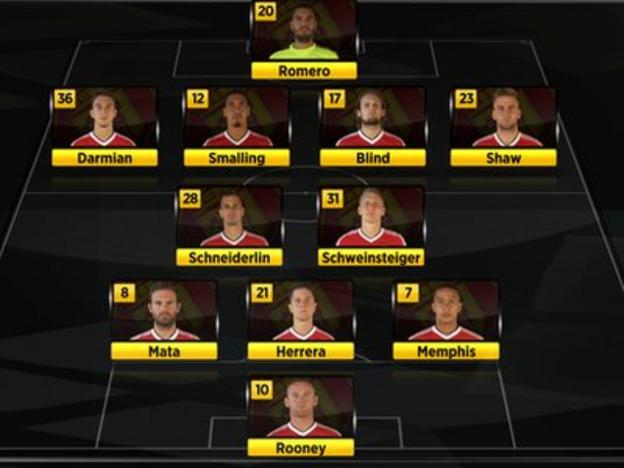 Usually, Rooney is a great finisher in both situations, but seeing him miss those chances on Sunday made me think we are watching a man playing without a great deal of self-belief.
He is still one of the best players in the Premier League, though. Just look at that chance he made for himself at the Liberty Stadium where he brought the ball down, nutmegged a defender and got through.
If he puts that away, we are all talking about how brilliant he is. Just because he didn't does not mean he is finished.
Rooney's biggest problem is that the team is not set up to play to his strengths. If he is given the correct role, then we are still talking about a world-class striker.
What he needs is a partner - someone like Robin van Persie in the 2012-13 season when United last won the league - who allows Rooney to drift in and out of games and cause damage that way.
At the moment, he is the focus of the United attack and I don't think that gets the best out of him.
What do you need from a number nine?
When I had the role that Rooney did against Swansea, and played up front on my own, I always had to cover a lot of different jobs.
You might not see much of the ball but the most important thing is to occupy the opposition back four.
You do that by stretching them, and sometimes that means making unselfish runs behind the defence even when you know the pass is not going to come.
Wayne Rooney's touches v Swansea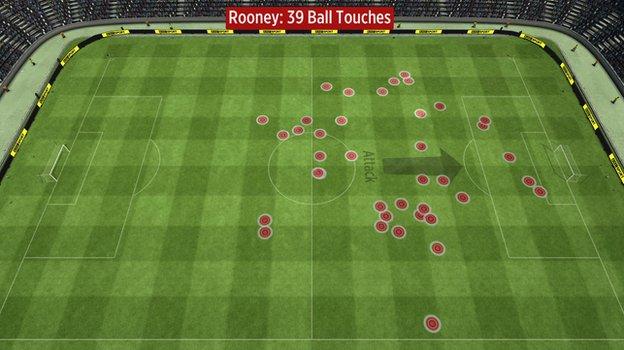 That is not Rooney's natural game, though. He prefers to come the other way and to drop deep to get on the ball, or at least try to.
If you have got wingers or a number 10 running past Rooney then it is not a problem, but United did not have that happening either.
Of the three players just behind Rooney, Juan Mata and Ander Herrera did not look to make forward runs off the ball so that just left Memphis Depay trying to get in behind.
It made it easier for Swansea's defence, because most of United's forward players were in front of them and, for long spells of the match, I don't think they really felt under threat.
At the other end of the pitch, Bafetimbi Gomis gave a masterclass in playing as a lone striker, but he had help in making it work.
He had the service to run in behind as well as hold the ball up but, crucially, he had players constantly running off him too.
That is what I always faced when I played against United but, under Louis van Gaal, United have not found a way to do it this season.
Bafetimbi Gomis's touches for Swansea v Man Utd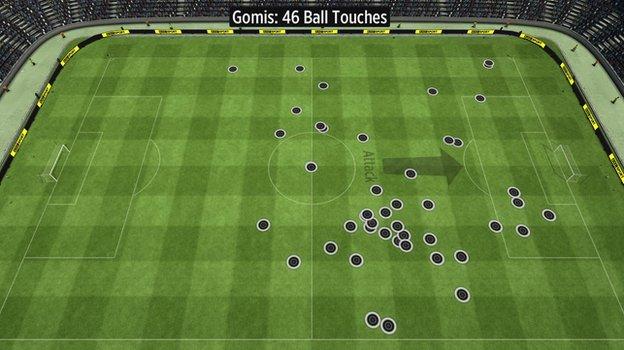 United have worries in defence too
United's goalkeeping situation is still uncertain but I also have doubts about their defence.
Daley Blind is a brilliant technical player but at centre-half he is lightweight.
I called it early in the game today that, if I were Gomis, I know I am quicker and stronger than him so I am going to target him.
I would be looking around at every opportunity and standing close to him, and saying to the rest of my team to try to put me in a chase with him, or play the ball to my feet so I can over-power him.
On Sunday Chris Smalling tried to cover Blind as much as he could but every time Gomis got one-on-one with him, he caused the Dutchman a problem.
Swansea clearly worked on it in training and everyone else will have seen that it worked. It is something a lot more teams are going to try as the season goes on.
Jason Roberts was speaking to BBC Sport's Chris Bevan.