Gary Mills: Manager rues Wrexham defeat at Cheltenham
Last updated on .From the section Football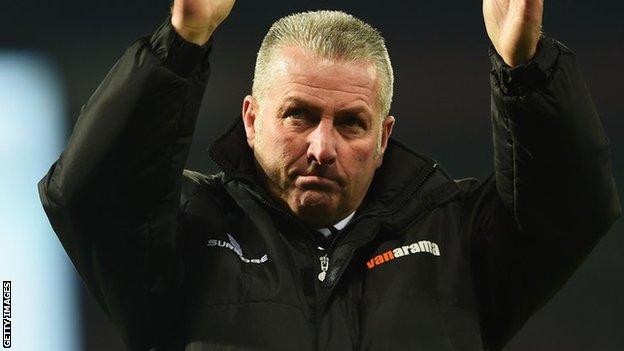 Manager Gary Mills says Wrexham need to learn from their mistakes after their five match winning run came to an end at Cheltenham Town.
James Gray gave Wrexham, but Danny Parslow and Amari Morgan-Smith won it for Cheltenham.
"It's a difficult one to take not to go back even with a point," Mills said.
"We've got to learn from situations where we can't give free kicks away against teams that are going to throw everybody forward."
Mills added: "We gave away too many silly, needless free-kicks which a team like Cheltenham thrive on."
Wrexham had won five of their opening six games in the National League before the game at unbeaten Cheltenham.
The Dragons had started the day in second place but the 2-1 defeat at Cheltenham saw them slip to sixth in the table ahead of Saturday's game at Lincoln City.
"Unfortunately it wasn't quite our day but it could quite easily have been," Mills said.
"It's a difficult one to take because I thought we came here and passed the ball well and created numerous chances.
"We should have gone in maybe two or three-nil up at half-time and we haven't.
"If you don't put the ball in the back of the net when you are dominating then it comes back to bite you and that's what happened.
"I thought we were unbelievable for 60 minutes but as soon as we scored the game changed and we didn't get the ball down like we had been for 60 minutes.
"We've been playing really well and dictating and dominating teams and we did again [against Cheltenham] but then they got themselves back in it and we didn't have the composure.
"We'll continue to work hard and continue to try and win football matches."