Zlatan Ibrahimovic: I turned down return to AC Milan
Last updated on .From the section European Football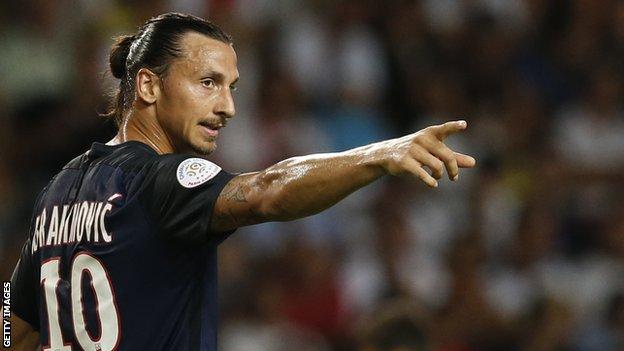 Paris St-Germain forward Zlatan Ibrahimovic has claimed he turned down a return to Italian giants AC Milan in the transfer window.
The 33-year-old has won league titles at Ajax, Inter Milan, Barcelona and PSG and helped Milan win Serie A in 2011.
The Sweden international was linked with other clubs, including Arsenal, Fenerbahce and Galatasaray.
"I said from the beginning that I am staying at PSG," said Ibrahimovic. "I'm happy there."
He added: "It was concrete from [AC Milan's] side and they showed great interest.
"I take it as a compliment that there is still interest in me. It means I'm still performing. I take it as positive."
Ibrahimovic's 10 league titles
Ajax (2), Inter Milan (3), Barcelona (1), AC Milan (1), PSG (3)