Stacey Pearson: Yeovil Town midfielder retires to be a referee
Last updated on .From the section Women's Football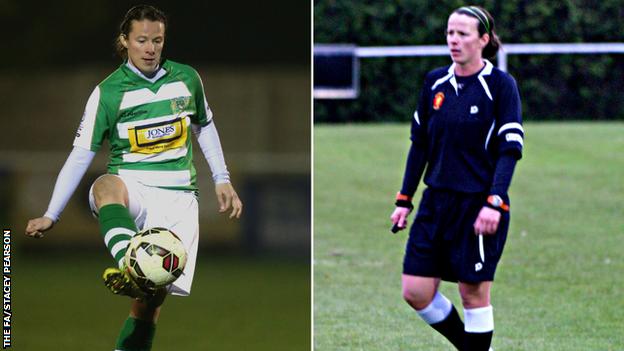 Yeovil Town midfielder Stacey Pearson has retired from playing to focus her attention on reaching the Women's World Cup as a referee.
Pearson, 28, who scored the Glovers' first ever Women's Super League goal, is a senior Somerset County referee.
"If I want to go higher in refereeing then I need to put more effort into it and get more experience," she said.
"To have more Sundays free and doing more games as referee will allow me to be the best I can be."
Speaking to BBC Sport, the level five referee continued: "Hanging up my boots has allowed me to be more available to progress up the women's football ladder as a referee as well."
Playing in the second tier of the women's game in England has meant that Pearson has concentrated on officiating men's games in the Somerset County League Premier Division, while also assisting in the Western League - the ninth step of the men's football pyramid.
While in her first year playing in the WSL, she was named as the Somerset Football Associations's Female Referee of the Year for 2014.
Pearson goes into the book
Stacey Pearson tried to get through her playing career blemish free, but it was around three years ago that she collected her first and only yellow card. And she agrees that it was a fair booking, having got her tackle timed all wrong.
Pearson is the player that team-mates turn to when debating a referee's decision and once even had the job of officiating a training match that she was playing in.
"I wasn't biased at all, I was honest," she laughed.
Now that Pearson has retired as a player after nine years with Yeovil, she hopes to return to the WSL with whistle in hand within three years and go beyond that one day by making it to the international stage as a referee.
"I can smile at all the memories I have playing the game and it is time now for a new adventure," said Pearson, who is hoping to gain promotion as a level four referee in February.
Pearson, who attended her first referee's course four years ago to help with her officiating skills as a PE teacher, also revealed that she wants to honour the man who first convinced her to pick up the whistle.
Keith Buller, a Somerset referees development officer and one of Pearson's close friends, died suddenly earlier this year.
"He was the one that made me want to be a referee," Pearson said. "He said to me in September last year that, if I worked hard, I could go all the way. I want to fulfil his faith in me. I want to prove him right."
Hat-tricks and red cards
As a player, Stacey Pearson wrote herself into the history books for scoring Yeovil's first ever WSL goal. She went on to score a hat-trick in a 4-1 win over London Bees in April 2014.
As a referee, Pearson is equally self-assured. She once showed six yellow and two red cards in one match. In total, she has only sent off four players.
As a PE teacher and now a former player, Pearson believes she has all the skills to command the whistle with authority.
"Because I'm a PE teacher it helps me with communication skills if things ever cross the line," she said.
"Players argue. You always get it no matter who you ref - men, women or children. They will all argue a decision and you will never keep everyone happy.
"I keep to the laws of the game, but I also understand how players feel. And because they know I used to play, they have a little more respect for me because they know I understand the game."