Eliot Richards: Cheltenham Town forward returns after cancer
Last updated on .From the section Cheltenham
In March this year, Eliot Richards' life changed forever when he was diagnosed with testicular cancer.
Now, after being given the all clear, the 23-year-old is ready for his next battle - winning his place back at National League side Cheltenham Town.
After an operation to remove the tumour and weeks of chemotherapy the forward is back training and is targeting a Christmas return.
"It's good to be back," Richards told BBC Points West.
"I've been away for a long time so I've missed the place."
Richards knew something was not quite right when he noticed an unusual lump, but admitted he was lucky to catch it relatively early. Others he met in hospital had tumours the size of tennis balls.
His message is simple: "If you feel anything and you are unsure then get it checked."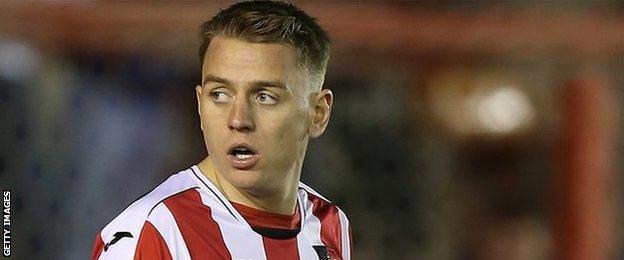 The chemo, which took place over a 60-day period, sapped Richards of all the strength and conditioning the young footballer had taken years to build up. However, he said that despite the life-changing news he was never worried.
"When I got the news the first thing that ran through my head was at being gutted my season was over, I just wanted to get through it and get on with my life," he said.
"I just thought if I did the chemo I'd get better and then I could work hard to get back out on the training pitch."
In between the operation and the chemo, he also managed to squeeze in a wedding but is yet to take his new wife on a honeymoon.
He says his immediate focus is getting back out on the football pitch and earning a new contract at the National League side.
"I got married at the end of May, I started my chemo two days after which was a bit of a downer," he added. "She was there with me all through the chemo so I've got a lot to thank her for."
Richards has been advised to take things slowly, however, he is determined to play before the end of the year.
"The doctors said take it as it is, late November to early December," he said. "The physios have said anything before Christmas would be a bonus but I want to get back earlier. It's been an up and down few months for me so I just want to get fit now."