Karl Robinson interview: Who would be a football manager?
Last updated on .From the section Football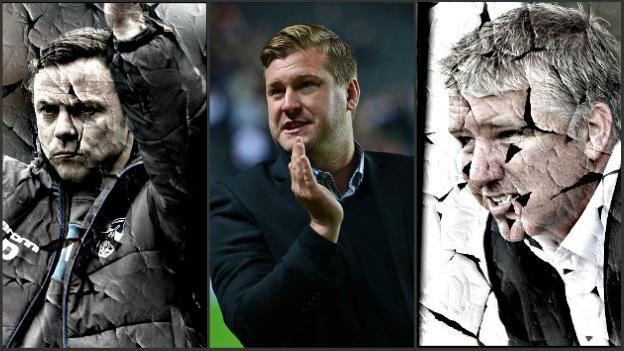 Football managers have feelings, too. They hurt, they cry, they bleed. They are not pieces of machinery without hearts or souls, who dream of electric referees.
All of which might sound obvious to you. But not to others. For 'tis that time of the season when managers are told to die, get covered in spittle and dare not smile - whether in the ground, playing with their kids in the park or out for a meal with their wife. 'Tis that time of the season when wild optimism curdles to bitter distrust on social media, where empathy is at a premium. 'Tis that time of the season to get sacked. Ho. Ho. Ho.
Asked whether the life of a football manager is defined by emotional turmoil and suffering, Karl Robinson, manager of MK Dons, is quick to reply: "Yeah. That's our life - people calling us every name under the sun, laughing at managers when they get the sack, telling them they should never work again.
"When we played Rotherham earlier this season, our fans started singing to Steve Evans: 'You're getting sacked in the morning.' [MK Dons won the match, played at Rotherham's New York Stadium, 4-1] I walked over to them and told them to stop. They might be talking about somebody's father, son or husband.
"All of us managers love the game so much. That's why we put ourselves through all that stuff. It's a difficult job but it's a great job. Fans lose perspective and managers appreciate that, because we've been fans ourselves. But managers are the same as everyone else, just doing a job as best they can."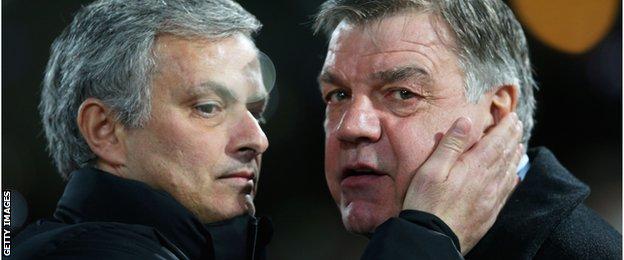 Robinson is featured in a fine new book on football management by Michael Calvin, Living on the Volcano. The book's greatest achievement is in making managers look human - people just like you, your father, your son or your husband. It is a melancholy book, about the death of dreams and idealism. But it is also uplifting, because it shows how difficult it is to extinguish a fiery spirit.
Last season, 47 managers lost their jobs across the top four divisions. The average tenure of a sacked manager was 1.23 years. On Saturday, Oldham's Darren Kelly was told his services were no longer required at Boundary Park, following a 5-1 home defeat by Peterborough.
Kelly's dismissal was the third in seven days, the first being Peterborough's Dave Robertson - another of football's vicious circles.
Robinson has been one of the lucky ones. So far. When he was appointed manager of MK Dons in 2010, he was only 29. Never mind his lack of experience, the omens for a long career in top-level management were not good.
Fifty-six percent of first-time managers never work in the top four divisions again. When Robinson is informed of this statistic, he laughs. "If I wasn't feeling scared before, I certainly am now." Sitting on a balcony at Stadium MK, Robinson looks like the master of all he surveys. But you can easily fall from such lofty perches and the impact can be crippling.
"Every day of my life I'm motivated by that fear of the sack," says Robinson, who led MK Dons into the Championship last season. "The fear of failure and excitement of winning is my driving force.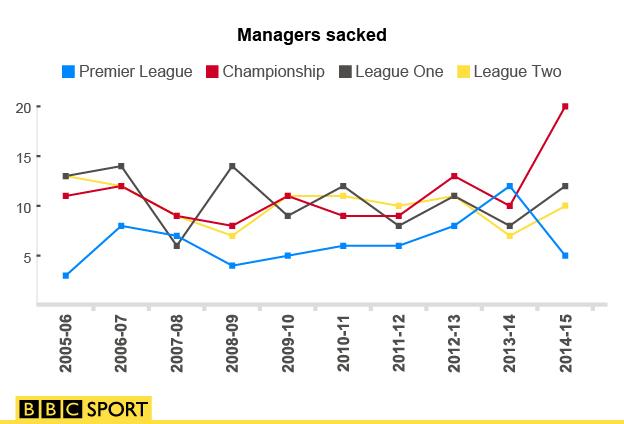 "But Sam Allardyce once told me: 'Son, you won't be a proper manager until you've had the sack.' I think what he meant was that only when I get the sack will I understand that what we do is just a job. At the moment, this is my life and this club is me. I go to sleep thinking about it, I wake up excited about it."
A big problem for any manager is that the betrayal of emotion is perceived as a weakness. And so football ends up with men like Martin Ling, who considered taking his own life after suffering a mental breakdown while boss of Torquay.
Consider all the negative emotions Ling must have been feeling, as he sat in his car in a service station on the M5 - fear, anger, sadness - all shaken up inside him without any apparent outlet. There are more men like Ling that we don't even know about, and probably never will.
Robinson says the rules of football management dictate that nobody knows the real him except his wife. "A very experienced manager once told me: 'That 90-second interview after a game is the window onto my world'," he says.
"In no other walk of life are people judged so easily by people who don't even know them. The reason most managers don't give much more to the media is that they have to be careful about showing insecurity, to fans and players. It's my wife who deals with the moans and groans and stresses on a daily basis."
Perhaps if managers revealed more, they would be abused less. Or perhaps the risk of revealing too much is too great for many to take. One of the unfortunate side effects of all this money sloshing around the game is that fans paying fortunes for tickets and TV subscriptions feel entitled to say what they want, to hell with the hidden consequences.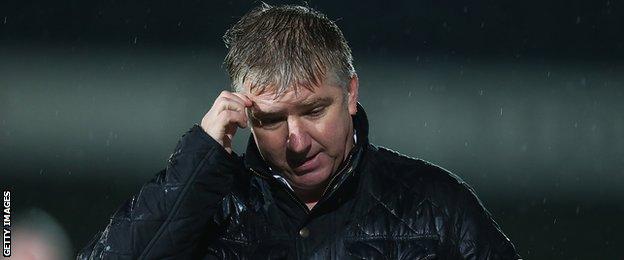 You might expect Robinson to have more insecurities than most. Having grown up in Liverpool, a back injury scuppered a career as a pro. Instead, Robinson played for clubs such as Prescot Cables and Bamber Bridge, before becoming a coach under former Anfield great Steve Heighway at the Liverpool academy.
But Arsene Wenger and Jose Mourinho proved long ago that you do not necessarily need to be a top-class player to become a top-class manager. And the candid Robinson, the third-longest serving manager in the top four divisions after Wenger and Exeter's Paul Tisdale, does not seem like a man riddled with self-doubt.
However, Robinson happily admits to seeking out the advice of a 'behaviour specialist', somebody who can help him deal "with the stress and anxieties that come with the job". He says his sessions also teach him how to better support his players, some of whom might be suffering with anxiety or depression.
"What happened to Martin Ling scared an awful lot of people in football," says Robinson, whose side are currently 14th in the Championship table, following a 2-0 defeat by Middlesbrough on Saturday. "Martin was incredibly brave showing all of us young managers that it could happen to any one of us on any given day.
"And he also made us feel more secure. He showed that there was a support mechanism for football managers. If you pick up the phone, there will be somebody there to help you."
| This season's sackings so far | |
| --- | --- |
| Date | Dismissed |
| 6 September | Dave Robertson - Peterborough United |
| 8 September | Paul Dickov - Doncaster Rovers |
| 12 September | Darren Kelly - Oldham Athletic |
Help for Ling not only came in the form of mental health professionals but also the League Managers Association and Ling's fellow bosses. Battle is waged with cudgels gripped by velvet gloves in the strange world of football.
"I find it difficult when another manager gets sacked," says Robinson. "Because it reminds you that it could be you the next day, the next month or the next year. It comes to us all eventually, so it's important that we're there for each other.
"Managers are proud people, they want to win every week. But they're the first to get in touch when something doesn't go right for you. People like Sir Alex Ferguson, Mick McCarthy and Steve Bruce are there to lend a hand. As a young manager, I'm so lucky to have that kind of experience on the end of the phone."
Robinson agrees that his ambition of managing in the Premier League might be a case of "be careful what you wish for", before countering: "There is fear. But the higher you go, the more support there is. And I want to test myself at the highest level and make my daughter proud."
But at times it must be difficult for the young to understand the madness of professional football and the idiocy of some of those who follow it.
A poignant story in Calvin's book describes one cherished Sunday morning Robinson spent with his nine-year-old daughter, the day after a defeat. As they were walking around a local lake, a fan spotted them laughing and shouted at Robinson: "You find losing funny, do you?"
Robinson bit his lip and walked on. Cool on the outside, boiling on the inside. What a way to treat a man who loves the game, maybe even more than you do.