Chris Wilder: Football League manager camaraderie important
Last updated on .From the section Football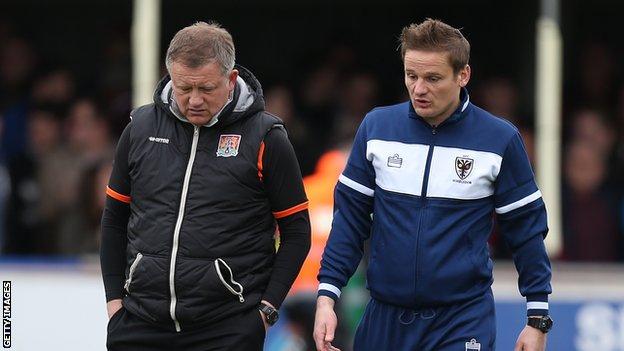 Northampton Town manager Chris Wilder says the camaraderie between managers at lower-league level is important.
Wilder faces Dagenham, managed by ex-team-mate Wayne Burnett, on Saturday.
"There's a few that don't come into the category, but the office is well stocked with beers, a bottle of wine and a few boxes of pizza," Wilder said.
"It's important, it's a tough job. We're all after the same result - there's a lot of good quality managers at this level and the league below."
He continued to BBC Radio Northampton: "We know for 90 minutes we're battling it out for our side, some people overstep the mark, but in general there's a lot of respect.
"It's not a backslapping exercise, I think everyone understands how tough the job is and how cutthroat the business it. Afterwards it's a shake of the hand and a beer."
While Wilder's side currently sit 11th in League Two, Burnett's Dagenham are in the relegation zone and without a league win this season.
But Wilder has the utmost respect for Burnett, whom he played with at Leyton Orient.
"I think he's done a great job there. It's not always the managers that get the recognition for the jobs that they do, and I think Wayne's one of those because it really is a shoestring budget," Wilder added.
"He has to pull players from here there and everywhere and gets value for money - I think it's a sign of a talented manager."