Fifa presidency: Segun Odegbami outlines his vision
Last updated on .From the section Football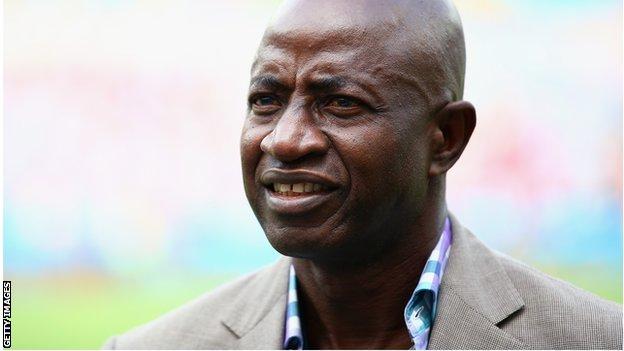 Fifa presidential candidate Segun Odegbami wants to close the gap between football's rich and poor.
The Nigerian is one of two Africans, alongside Liberian Musa Bility, who will stand in the 26 February election to replace Sepp Blatter.
He told BBC Sport: "Football is a simple game, beautiful to watch, where poor people can have dreams.
"We need to recreate this instead of making it a game for the powerful and rich, watched by the rich."
In June Blatter announced his resignation as president of world football's governing body Fifa only four days after he was re-elected for a fifth term.
The Swiss made his decision amid reports he was under investigation in the United States and following the arrest of seven top Fifa officials in a massive corruption probe.
Since then, six men have officially announced they will stand in the election for football's top job: Uefa chief Michel Platini, South Korea's Chung Mong-joon, former Brazil striker Zico, former Trinidad and Tobago international David Nakhid, Liberia Football Association chief Bility and Odegbami.
Platini is believed to be the frontrunner but former Nigeria international Odegbami believes it would be bad for football if the Frenchman secured the position.
"We we want to get way from where we are now," said the 63-year-old, who was speaking to the World Football programme on the BBC World Service. "There are gross inequalities - if you look at the game in Europe and Africa they are like planets apart. We want to bridge that gap.
"The world is dissatisfied with the present system and all those who have been, directly or indirectly, a part of bringing Fifa and football to this position should step aside and let fresh ideas, fresh motivation , fresh vision and fresh faces come and clean up Fifa - its integrity is at stake."
Odegbami tasted success as a player - he was part of Nigeria's team that claimed the country's first Africa Cup of Nations title in 1980 - but he has no experience of football administration.
However, he does not think that should prevent him from landing the Fifa presidency and he is also adamant it is time for a different perspective.
"You don't have to be your country's Football Association president to become Fifa president. Look at the history of past Fifa presidents and tell me who did that," Odegbami said.
"Of the eight Fifa presidents, there have been seven Europeans and one South America. Football is a global game and it cannot be monopolised by one part of the world.
"In the past 20 years Africa has contributed a great deal to Fifa. And just as we merited hosting the World Cup for the first time (in south Africa in 2010), we also deserve to be given a shot at leading Fifa for the first time.
"This is the time to choose someone outside of Europe to lead Fifa. If the president comes from Africa it will be wonderful."