Green cards: Italy's Serie B to reward positive player behaviour
Last updated on .From the section European Football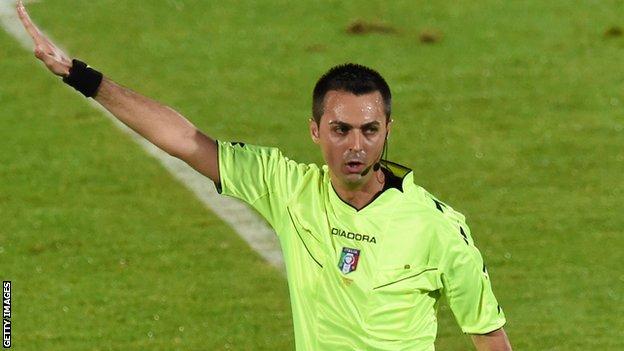 Green cards will be used by referees in Italy's Serie B this season to reward instances of fair play during a match.
The cards will not be handed out during matches but will be a "virtual" card given to players for positive behaviour.
The league hopes it will change the image of Italian football, and a Serie B spokesman said the cards may be rolled out to include coaches and fans.
"We think that football needs positive messages," he told BBC Sport.
"This sport is too often embroiled in controversy that drives people away from the stadiums."
Serie B president Andrea Abodi said players would have to perform an "extraordinary act" to earn a green card.
"It's a symbolic award," said Abodi. "It could be something very simple. The important thing is to recognise it when a professional does something exemplary."
The cards are in their final phase of development but it is not clear if they will be extended to Serie A, Italy's top flight.
The start of the Serie B season was delayed until Saturday, because of a match-fixing inquiry.
In August, Catania were demoted from Serie B to the third tier for their involvement in that scandal.
"This is just one part of a series of initiatives on and off the pitch,'' added Abodi. "Respect has to come first. And that's where this green card comes into play.
"We're happy to be a laboratory for Serie A. But that's not for us to decide. We've got to work on our own reputation now."