Wayne Rooney says he will never retire from England duty
Last updated on .From the section Football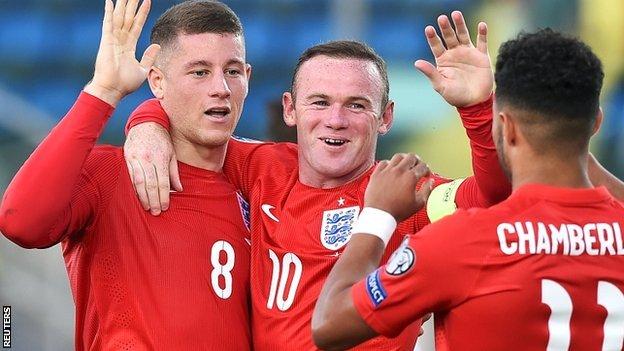 England captain Wayne Rooney, who aims to become his country's leading scorer on Tuesday, says he will never retire from international football.
Rooney could get his 50th England goal in the home Euro 2016 qualifier against Switzerland, surpassing the record he shares with Sir Bobby Charlton.
With qualification assured, the 29-year-old is set to appear at his sixth major tournament - and plans more.
"I won't be one to say I'm not available for selection," he said.
"I'm sure it'll probably be the manager's choice more than mine. It's a huge honour to play for England."
The Manchester United striker equalled the England scoring record with his 49th international goal in the 6-0 win in San Marino on Saturday, which guaranteed their place in France next year.
But Rooney sees no reason why he cannot continue playing for the national team beyond the World Cup in Russia in 2018.
"I feel I'm capable of going to Russia," he added. "After that, it may be a realistic time to see how I feel and if I feel it's not right for England or myself, I'll have a decision to make.
"If I feel I can carry on, I'll try. But if the manager says he doesn't feel I'm in his plans for the next tournament, it's probably better I don't play in the qualifying games because I won't be going to the tournament."
Rooney regrets Las Vegas holiday
Rooney wants his England team-mates to learn from his mistake prior to Euro 2012, when he went on a family holiday to Las Vegas.
He believes players would benefit from staying at home before the tournament in France starts next June.
Rooney who was suspended for the first two games of Euro 2012, said: "I went on holiday, which I regret.
"I thought it was no problem and now I know I shouldn't have done it."
Euro 2016 base and friendlies confirmed
Meanwhile, Roy Hodgson confirmed reports that England had chosen the commune of Chantilly in northern France as their base for next summer's tournament.
"We had a clear set of criteria we wanted to fulfil: proximity to training ground, type of town, proximity to airport, and quite a few others," said the head coach.
"When we looked around, we eventually thought Chantilly was the one which best fulfilled those criteria."
The 68-year-old also welcomed the news England would play away to European champions Spain in Alicante on 13 November. That fixture is the first of three pre-Euro 2016 friendlies which will see the team face tournament hosts France (17 November) followed by world champions Germany (26 March).
"I've always had France and Spain fixtures in my mind. We now know where we will play that game in Spain," he added.
Sterling can win 100 caps for England - Hodgson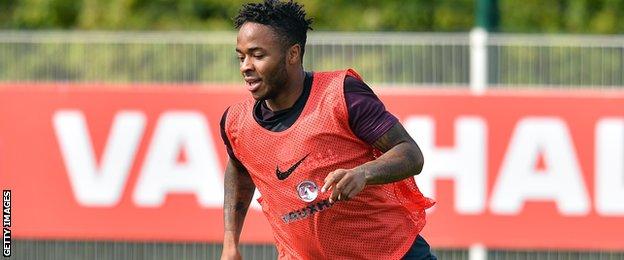 Hodgson believes Raheem Sterling has the ability to join an elite group of players to have earned 100 England caps or more.
Sterling, who joined Manchester City from Liverpool for £49m this summer, is expected to make his first England start of the season at Wembley on Tuesday.
The 20-year-old has 16 caps so far, but with his club future settled Hodgson sees no reason why he cannot join an exclusive 100-cap club that currently contains 10 players.
"It's a big year for him," Hodgson said. "He'll have a lot of big years: France in 2016, Russia in 2018, 2020 all over Europe, and (Qatar) 2022.
"I'm sure that one day he'll be looking forward to sitting here alongside me with over 100 caps."
'Grealish needs to make decision'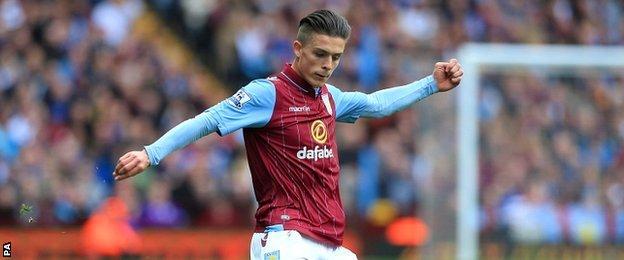 Hodgson wants teenage Aston Villa midfielder Jack Grealish to decide whether he wants to play for England or the Republic of Ireland.
The 19-year-old was born in Solihull, but qualifies for the Republic because his grandparents were born there and has represented the country at youth level.
Grealish rejected a call-up to Martin O'Neill's Republic of Ireland squad in June, saying he needed time to decide which country to represent.
"I'm not 100% certain of what he is waiting for," said Hodgson.
"I would like him to come out and say: 'I've thought about it, I've got the two possibilities and I'm opting for England.'
"But he has been injured, so he wouldn't have been selectable for any team at whatever level during these September fixtures."
Hodgson, who has spoken to Grealish, acknowledged it was "important" for the player to give the decision "the right amount of thought".
He added: "It would be nice if he says 'yes' and then he would have a year to see if he could knock one or two of these players off their perch."
Worries over attacking pair
The England coach said he has doubts over the availability of injured forwards Danny Welbeck and Daniel Sturridge.
Arsenal's Welbeck, 24, will be out until the new year following surgery on his left knee at the end of August. He has not played club football since April.
Liverpool's Sturridge has not featured for Hodgson for more than a year because of hip and thigh injuries. However, the 26-year-old is back training with the Reds.
"I can only hope that Danny recovers a bit quicker and then hits the ground running. Daniel is a bit the same.
"They are always in my thoughts because I think they're very good players and they did extremely well when they were playing in the national team I was coaching."