Paul Tisdale: Exeter boss hails defence in win over Leyton Orient
Last updated on .From the section Exeter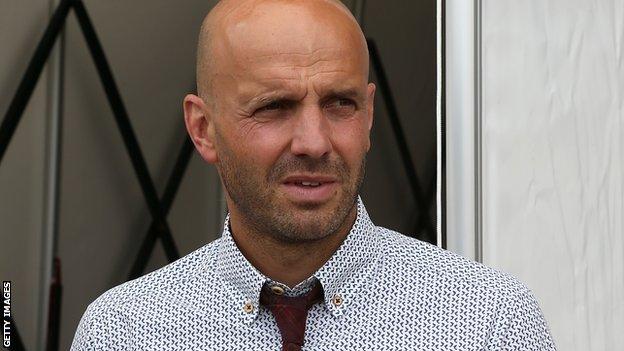 Paul Tisdale says Exeter's defenders deserve the most praise after his side's 4-0 win over previously unbeaten League Two leaders Leyton Orient.
The O's had won all five of their games going into the match at St James Park.
"That's the crazy thing about football. They did most of the attacking, we did most of the defending, but we looked most likely to score," Tisdale said.
"Most of my thoughts and praise will go to my defenders, and that's the irony of football," he told BBC Radio Devon.
Exeter's win was their biggest since beating Scunthorpe 4-0 at Glanford Park in October 2013 and their biggest at home since a 5-1 win over Sheffield Wednesday in December 2010.
The victory also lifted City in the play-off places, five points behind Orient.
"Jordan Tillson and Troy Brown did particularly well as unit, they saw the danger, they challenged, they had a real focus on defending," added Tisdale.
"The midfield in front of them, who you'd ordinarily judge on their footballing ability, did well in covering danger areas, making tackles and cutting off the dangerous situations."