Tom English: Poland challenge next for fighting Scotland

By Tom English
BBC Scotland
Last updated on .From the section Football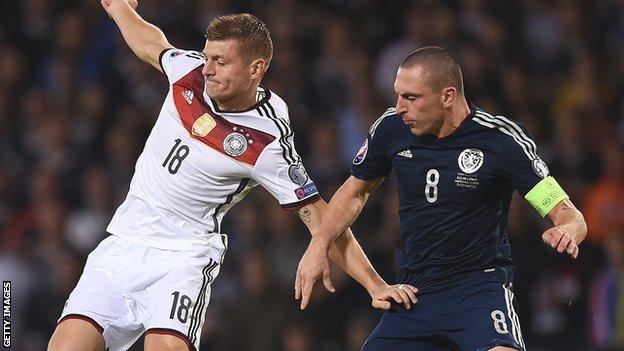 For Scotland, the sensible thing is to look forward in hope, but the irresistible urge is to look back in anger.
The fluctuation is a brand of torture that has been reduced to a fine art in Scotland, a form of water-boarding, just for football fans. The prevailing agony of the Scottish supporters leaving Hampden after the 3-2 loss to Germany might have taken the shape of the contention - 'If only we'd played like that in Tbilisi we wouldn't be in such a hole.'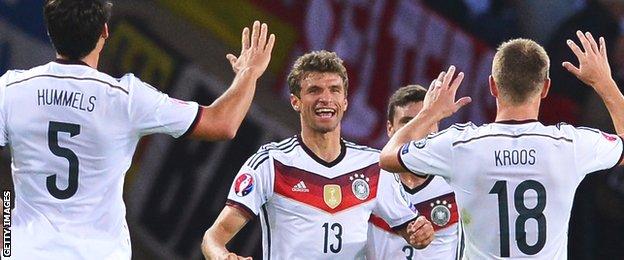 In that sense it was like Groundhog Day. Five years ago, Scottish fans left Hampden having watched the national team lose by the same 3-2 scoreline against the world champions, Spain.
They left with twin emotions; pride in their team for putting up a mighty effort in adversity and frustration that they hadn't shown similar gumption four days earlier when losing 1-0 on the road against the Czech Republic - the so-called night of the no-strikers in Prague.
A nation's football anguish
There will be hard-bitten supporters - worn down by the flirtations and subsequent failures to qualify for the last eight major championships - who could be excused for seeing Uefa's expansion of Euro 2016 to include 24 nations as a cruel ruse to extend the borders of Scotland's footballing anguish.
Iceland have qualified. Wales and Northern Ireland are within touching distance. Albania, Estonia and the Republic of Ireland are in the play-offs as they stand. Hungary, too. Sitting in fourth place - for now - Scotland wear the bewildered look of a frustrated party animal - all dressed-up and nowhere to go.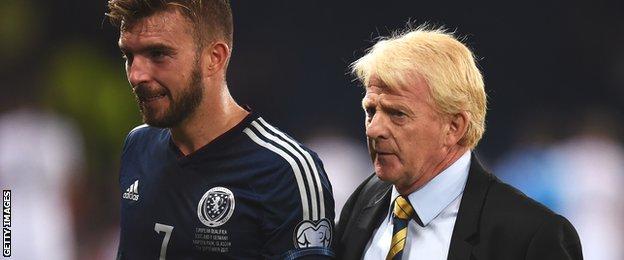 Of course, a place in the play-offs for Euro 2016 is still a possibility. And, yes, on their very best form and with good fortune in the draw, Strachan's team are capable of negotiating that play-off and making it back to the promised land of a major championship.
Monday night's performance suggested as much. They were out-classed, naturally. Trying to live with the movement of Thomas Muller and Ilkay Gundogan is hard enough without them having a supporting cast largely made up of world-class movers and thinkers.
Scotland were out-passed, out-scored, but not out-fought. That was the galling thing about what happened in Tbilisi. It's OK to lose a battle of wits with the world champions, but it's not OK to be outdone for desire by Georgia.
A test of character
Strachan made changes to the team that lost on Friday night. Charlie Mulgrew was given the Everestian job of trying to prove he can be an effective left-back against the best team in the world a few weeks after showing he couldn't handle the job against Malmo.
Mulgrew played his heart out, but heart isn't enough when Muller and Gundogan and Mario Gotze sense a weakness. All of Strachan's players bust a gasket. Steven Fletcher gets criticised - and surely the time has come for Strachan to give somebody else a shot up front - but he works tirelessly for the team. He ran himself to a standstill against Germany.
There is character in this Scotland side, no question. Weirdly, it deserted them in Tbilisi, but it was restored at Hampden.
They survived the loss of an early goal - a mix of concentration-lapse and bad luck - only to bounce back. They conceded again just after the half-hour - Muller is not just a consummate player but a sublime poacher - and rallied for a second time through James McArthur's lovely finish.
That first half was electrifying. Bonkers, but brilliant. In 90 minutes against the Georgians, the Scots didn't have a shot on target and yet here they were with two attacks and two goals against the planet's pre-eminent football nation.
Scotland - bloody hell.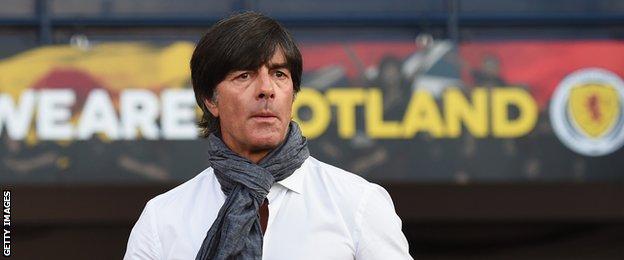 The more it went on, though, the more you thought of Georgia and the wasting of a glorious opportunity, especially after Gundogan made it 3-2 and Germany kicked for home, toying with Scotland at times as they have toyed - and will toy again - with many teams they come up against.
As Strachan said later, better teams than Scotland have suffered ignominy at the hands of these guys. He name-checked Brazil, but he didn't have to. Everybody knew where he was coming from.
There was a moment late in the game with Gotze and Gundogan played a series of sumptuous one-twos that took them inside Scotland's penalty box and even one as gnarled as Willie Miller broke a smile. Up on the radio gantry the great man, who used to eat flair players for breakfast, said that he could watch that kind of stuff all night long. We all could have.
As much as Hampden stirred the blood on Monday - Germany's class and Scotland's character in trying to stay with them - everything goes back to Tbilisi. Strachan likes to think that his team did enough "not to lose the match" against the team one place below them in the group, but that sounds like the one-eyed thinking of a man who doesn't fully want to face up to how poorly his team performed that night.
Might Tbilisi prove the fatal blow to Scotland's play-off hopes? Possibly, but not definitely. We have to wait a while yet before we know precisely how much damage was done that night.
Group D permutations
Strachan was right when he said that Scotland are far from out of it. The reality is this: If Scotland beat Poland in Glasgow and then beat Gibraltar in Faro then the Republic of Ireland would have to beat either Germany in Dublin or Poland in Warsaw. Two shots at getting three points, but it's still a huge ask.
If Scotland draw against Poland and then beat Gibraltar then the Republic would need "only" a point from their last two games to make the play-offs.
This offers up a certain scenario. Going into the final round of games it could suit Poland and the Republic to draw in Warsaw - one point for Poland could mean that they qualify automatically, one point for the Republic could mean that Scotland wouldn't be able to catch them for a play-off spot. The conspiracy theorists might yet have a field day with all of this.
Of course, if Scotland were to lose against Poland then things become very simple. The doomsday scenario comes to life. They're out.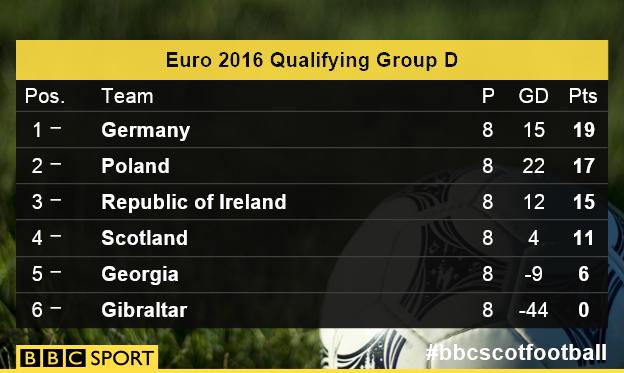 All eyes for now will be on Poland's visit to Glasgow on 8 October. An away win takes them to Euro 2016 and, on the evidence, they're clearly good enough to get it.
Poland will be focused and dangerous. Even when you strip out their turkey shoots against Gibraltar - 7-0 and 8-1 - they have scored 14 goals in six games in the group and boast seven different goalscorers compared to four different scorers for Scotland and Germany.
They have pulled off the one marquee win in the whole section - the 2-0 win against Germany in Warsaw last October. Poland will be all that Scotland can handle - but handle them Scotland must.
Strachan's team have blown their chance of automatic qualification but the forgiving nature of the qualifying system for these championships means that they are still alive where previously they'd already be dead.
They have a chance against Poland to repair the damage from Tbilisi. A last chance.