Eva Carneiro: FA criticised over 'silence' on Chelsea team doctor
Last updated on .From the section Football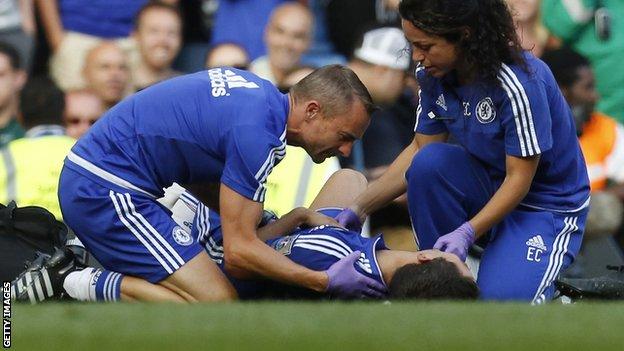 The Football Association has been criticised by a medical barrister for 'staying silent' over the treatment of Chelsea team doctor Eva Carneiro.
Carneiro's role was downgraded after she and head physio Jon Fearn went on the pitch to treat midfielder Eden Hazard against Swansea in August.
"It's disappointing that the FA has said nothing," said Mary O'Rourke QC.
The FA has yet to respond to the comments.
Carneiro and Fearn tended to the Belgium forward after he was tripped in the final minutes of the 2-2 draw with the Welsh club.
It reduced Chelsea to nine men as goalkeeper Thibaut Courtois had already been sent off, and Mourinho afterwards said his medical staff were "impulsive and naive" and did not "understand the game".
Although he was criticised for his remarks, Mourinho has not backed down. Chelsea refused to comment on what they see as an internal matter.
O'Rourke said it was "interesting" Chelsea had made no comment, but added: "They're not alone in saying nothing."
Mourinho has said he has an "open relationship" with his medical staff that was "open to disagreement".
Eamonn Salmon, chief executive of the Football Medical Association, said Carneiro was "treated harshly".
Speaking at football business conference Soccerex, O'Rourke added: "I don't believe those medics should be following the game.
"In my view they have people on the pitch who are their patients. They should be following them only and not the ball."
The incident will be discussed at world governing body Fifa's medical committee on 11 September.
Carneiro is now in ongoing discussions with her lawyers.
O'Rourke says she hoped the matter did not end up in a legal dispute.
"I would hope that because she's done nothing wrong - in fact perfectly correctly - I would hope we'll see both of them soon back on the bench," she added.