Gareth Bale was not close to leaving Real Madrid, says agent
Last updated on .From the section European Football
Gareth Bale was never going to leave Real Madrid this summer despite being linked with Manchester United, according to the forward's agent.
The Wales striker, 26, has been at the Spanish giants since joining from Tottenham in September 2013 for a world record £85m.
That deal was brokered by Jonathan Barnett, Bale's representative.
Asked if there was truth in reports he was close to a summer exit, Barnett said: "None. Why should he leave?"
He added: "Real are the greatest club in the world. I am talking for him, not for me, I am his agent and do what he tells me. He loves Real Madrid."
'Every club would want Bale'
Barnett would not confirm whether or not Manchester United were interested in Bale, but suggested there is little chance he will move to the Premier League in the foreseeable future.
Bale is not yet halfway through the six-year contract he signed in 2013.
"He has a contract and is enjoying life," added Barnett, speaking at a Soccerex conference in Manchester. "If you asked him today if he would move he would say 'no', but life changes.
"I would say he is happy there and as long as they are happy with him he will be happy there.
"He is 26, he has the best years of his life to come. He will be the best player in the world and I think every club in the world would want him."
De Gea situation 'a complete mess up'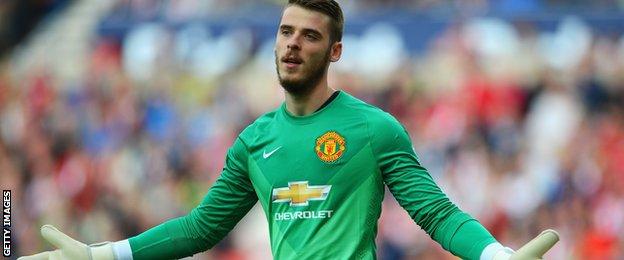 Barnett also gave his view on the collapse of Manchester United goalkeeper David De Gea's move to Real Madrid.
The Spanish giants had been interested in De Gea for several months but the move fell through when administrative problems led to paperwork not being completed before Spain's transfer deadline.
"It is a complete mess up," said Barnett.
"I don't think there is any Machiavellian plot, I just think someone has made a stupid mistake.
"It is the boy who suffers. I don't know who is to blame but it is certainly not the player."
Blaming agents 'a disgrace'
Agents are often accused of contributing to deals dragging on until deadline day until they are completed, with players moving on for inflated prices as a result.
But it is a view Barnett disagrees with.
"It is a disgrace," he added. "I think some people assume that what we do is phone up a club and say 'Fred Bloggs is for sale let me get him out of there and we will transfer him to you'. That is not what we do.
"An agent's job is to look after players, not run around doing transfers. I was on holiday in the transfer window. I was not exactly knocking myself out."