Welling player charged for feigning injury against Tranmere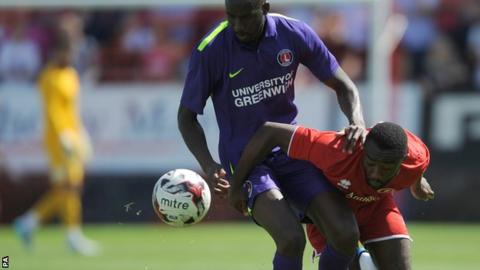 Welling striker Sahr Kabba is the first player to be charged by the Football Association under a new rule against feigning injury.
Tranmere defender Ritchie Sutton was shown a red card after an incident in a 1-1 National League draw on Saturday.
Sutton successfully appealed against the decision and Kabba has now been charged for "allegedly exaggerating or feigning an injury which directly led to an opponent being dismissed".
The rule is new for this season.
Kabba - who now faces a three-match ban - has until 11 September to respond to the charge.
Feigning injury to get opponent sent off
Under the rule introduced this season, a player who feigns injury and gets an opponent sent off could face a suspension.
Scenario
Player A is sent off for violent conduct
Dismissal overturned after the referee reviews the incident and sees that player B had feigned injury
Player B is open to a charge and could face a three-match ban