Wayne Rooney can reach 70 England goals - Gary Lineker
Last updated on .From the section England
Wayne Rooney can score 70 England goals and his international record will last for "at least a decade", says former striker Gary Lineker.
The 29-year-old forward netted his 50th goal in Tuesday's 2-0 win over Switzerland to move clear of Sir Bobby Charlton's total of 49 England goals.
"It's going to be a long time before anyone gets close to Wayne," ex-England captain Lineker told BBC Radio 5 live.
"He's still going so could take it to 60 or 70 if he maintains his fitness."
Match of the Day presenter Lineker, who scored 48 England goals and is third in the all-time list, added: "Wayne does not reach 30 years old until next month and there's no-one behind him in the team with any kind of goals tally."
Lineker, a former Leicester, Everton and Tottenham player, said he considered himself more of a "natural goalscorer" than Rooney, but added: "You have to play for a long time to score that many goals so his record will be there for at least a decade.
"It's a wonderful achievement for Wayne and he has been pretty consistent in terms of goalscoring since he burst on the scene in spectacular fashion.
"But he's not just a goalscorer - his all-round game is excellent, he has great spatial awareness and is a very intelligent footballer - so congratulations to him."
Asked to compare Rooney with previous England strikers, Lineker said: "Different players, whatever era, have different strengths.
"Wayne is quite creative and has a better all-round game than me.
"Bobby Charlton was a midfielder by and large who could score great goals from 25 yards and Jimmy Greaves was a fabulous goalscorer with a phenomenal record for England."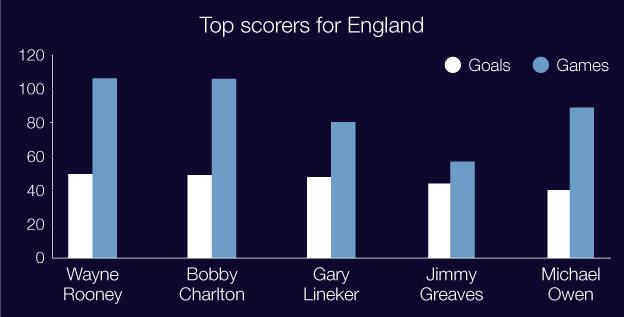 'You have to fear for your place'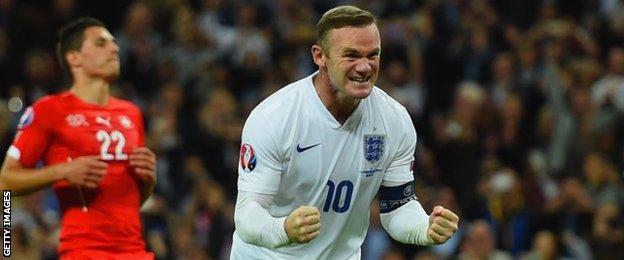 Despite scoring more goals than any other England player, Rooney says he constantly worries about being dropped from the side.
"There are a lot of young lads in this team and I don't want to give my place up," said the Manchester United captain.
"I train every day as if my place is on the line and I have always done that throughout my career.
"I come and work harder every time and I want to make it hard for the manager to leave me out over the next couple of years. You have to fear for your place."
'Shaw can be the next Cole'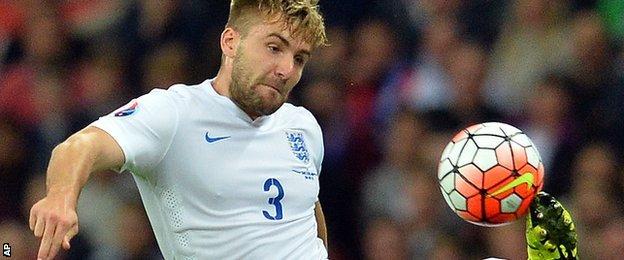 England boss Roy Hodgson believes Manchester United left-back Luke Shaw can go on to have a career like Ashley Cole, who won 107 caps.
Shaw, who has made six international appearances and never been on a losing England side, struggled for fitness last season following a £27m move from Southampton to Old Trafford in June 2014.
"I would advise Luke to study Ashley, look at what he did for England and set his sights on the same thing," said Hodgson.
"He's still only 20 and if he keeps going then he's on track to be another Ashley Cole.
"It's nice to see Luke back, playing confidently and showing the form that got him the move to Manchester United. We've always believed in him."
'Brave' Hodgson finds a 'stronger' group of players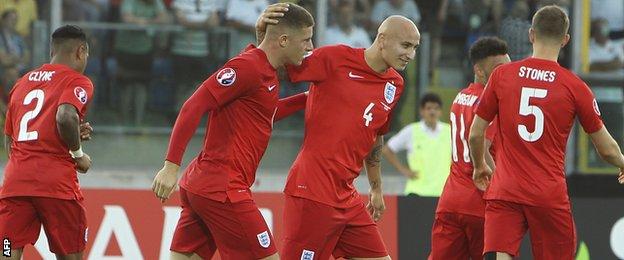 Hodgson has been impressed by the character shown by his young players as the side recorded eight successive wins to become the first team to qualify for Euro 2016.
"We've certainly found a stronger group, there's no doubt about that - I think we've probably been quite brave," said Hodgson.
"We played Jonjo Shelvey and Ross Barkley for 90 minutes in the team together and it's a fairly brave move to do those kind of things. It puts them under enormous pressure, but I think they'll learn from it.
"I really do believe we have a pretty clear idea of what our players can do and how we can use them."