Hearts: Robbie Neilson asked to explain Willie Collum criticism

By Brian McLauchlin
BBC Scotland
Last updated on .From the section Football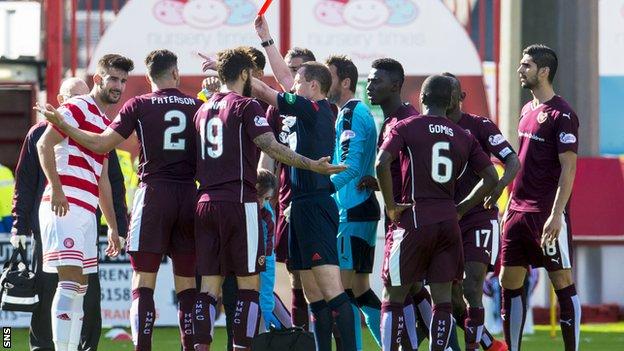 Robbie Neilson has been asked by the Scottish FA to explain comments made about match officials after the club's recent 3-2 defeat by Hamilton.
Neilson felt his comments were justified since the sending off has now been overturned.
"I received an email asking me to explain my comments and it's exactly as I said after the game," said Neilson.
The Tynecastle boss said in the immediate aftermath of the match: "We actually practised during the week going down to 10 men because of the environment we're coming to and the officials who are taking the game and we have to do that.
"In the recent past, the statistics involving the officials have shown a lot of red cards against us, so we have to prepare for it.
"The next time we get these officials, we will again train with 10 men."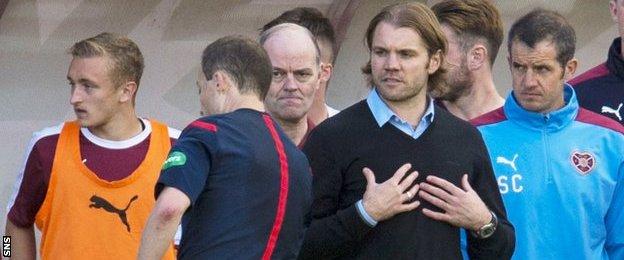 On Thursday, Neilson said: "The stats back it up. We trained the way we did and we will see what the outcome of it is.
"The decision got rescinded and it shouldn't have been a red card at the time and they have looked at it and agreed with us.
"It wasn't a red card. I said at the time after seeing it again on the video it wasn't a red card. The comment with regards to the red card has been justified."
Neilson has added midfielder Danny Swanson to his squad after the 28-year-old was released by Coventry City.
He says the experience of Swanson, who was at St Johnstone last season, will be a big fillip to the rest of the players at the club.
"He came in and trained at the beginning of the week and did really well," said Neilson. "I know him as a player having been with him at Dundee United and I know the ability he can bring."
The head coach added that there may be further additions at the club, even though the transfer window is now closed.
"You get players in all the time," he said. "People look at the transfer window and think you have to do all your business before it shuts, but a lot of the time some good players will come in after the window and their expectations drop as well.
"They may realise they are not going to get the kind of money they are looking for and we can then go in with an offer to get them here."