Jock Stein's legacy endures 30 years after untimely death

By Alasdair Lamont
BBC Scotland
Last updated on .From the section Football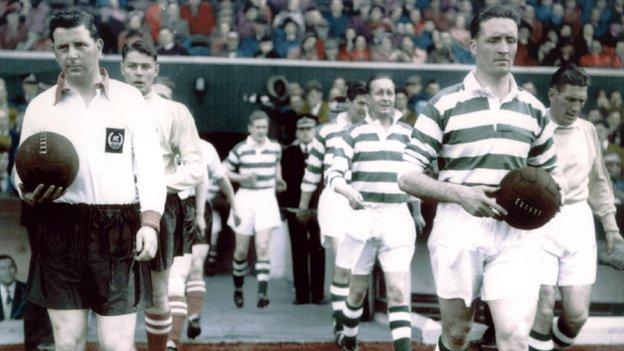 Thirty years on from his untimely death, little remains to be said by way of tribute to Jock Stein, one of Scotland's greatest managers.
But it is a mark of his undiminished standing in the game that on each landmark date, former players, journalists and colleagues turn out to re-live memorable moments spent in the great man's company.
This anniversary was no different as Celtic marked the occasion with a short ceremony.
Stein's son George - along with the club's chief executive Peter Lawwell - laid wreaths at the statue erected in his memory outside the stadium.
Archie Macpherson, the writer and broadcaster, spoke at the service and made an eloquent case for Celtic's regeneration under businessman Fergus McCann in the 1990s and their current stature to be traced back to Stein.
"If Celtic had continued in 1965 being a run-of-the-mill club, winning a cup every so often, winning the league every so often, being subservient to Rangers as they were at that time, would there have been the same appetite [from McCann] to come in and save that club?" he asked.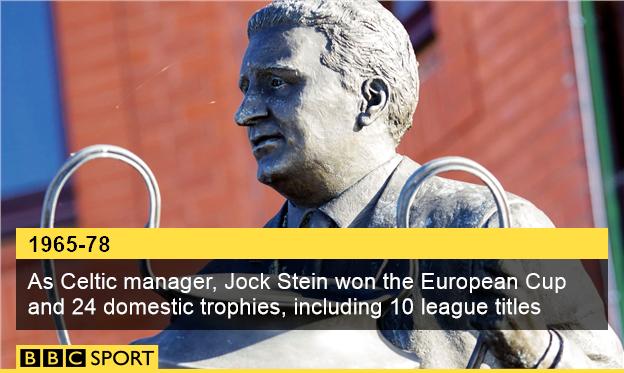 "Stein lifted the club almost stratospherically and got them a European trophy. That's why these people realised 'we can't let this club flounder - a club of that status'.
"Consequently, Stein built this [Celtic Park and the club as a whole] as well."
Macpherson refers to Stein as a revolutionary, the first tracksuit manager and the change he effected at Celtic - who had not won the league since 1954 - when he took over in 1965 is underlined by Bertie Auld, one of the Lisbon Lions who won the European Cup with Celtic in 1967.
"At most clubs in those days, when you were training you'd run round the track. If you went in at 10 o'clock you were running till 12 o'clock," Auld told BBC Scotland.
"Jock didn't see it that way. He thought, if you're a footballer, the most important thing is the ball - it's made round to go round. He introduced the ball to start the training. That was foreign.
"We'd speak about the games long before everyone else did.
"He was so in-depth, thinking about the game. He was well before his time. Everyone was engrossed in what he had to say. It was educational because I'd never experienced that before."
In just over two years, Stein had transformed an under-achieving side into domestic champions and then, incredibly, champions of Europe - the first British team to achieve that.
"He just pushed, encouraged, cajoled and made sure we all knew what our role in the team was," Jim Craig, another Lisbon Lion, said.
"We all played with each other and he encouraged a great team spirit."
Stein was, by all accounts, a stickler for professionalism, a disciplinarian whose methods were adapted and interpreted by one of his keenest pupils - Alex Ferguson.
Macpherson tells a story of how the former Rangers player travelled to Celtic's European Cup final against Feyenoord in 1970 to watch and learn from Stein.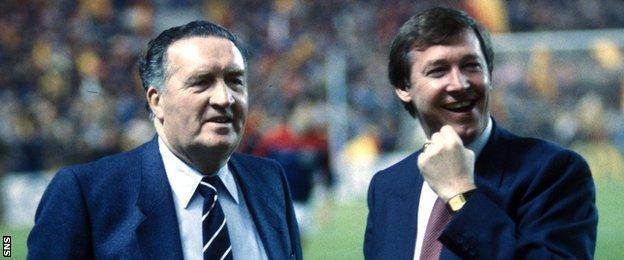 Ferguson was at Stein's side that fateful night in Cardiff when, with his Scotland team having edged closer to qualifying for the 1986 World Cup, the 62-year-old suffered a heart attack and died.
His legacy lived on through Ferguson's own managerial achievements and resonates still through the many proteges of Sir Alex who, in turn, have adopted some of those coaching and management techniques learned from Stein for their own ends.
Few other managers throughout history can claim to have had such a lasting impact as Jock Stein.