Fifa election: 'Prince Ali presidential campaign a misjudgement'
Last updated on .From the section Football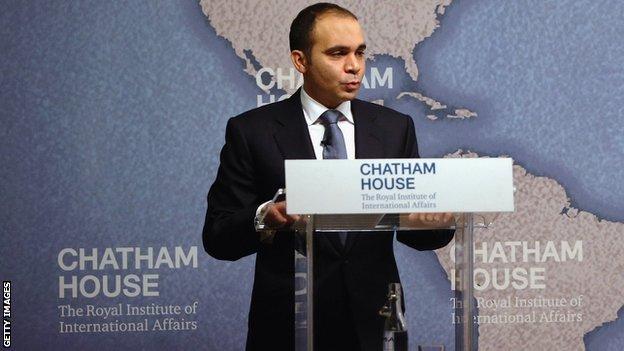 Prince Ali bin al-Hussein's decision to run again for the Fifa presidency is a political misjudgement, says one of his supporters in the previous election.
Prince Ali is taking on his main backer in the last election, Michel Platini.
Razvan Burleanu, head of Romanian football, says he will switch his vote to Uefa president Platini - and thinks most of the Europeans who voted for Ali last time will do the same.
Blatter, 79, triggered next year's election by announcing he was standing down amid twin criminal investigations into alleged corruption at football's world governing body Fifa.
Ali, 39, received 73 votes to Blatter's 133, triggering a second round of voting, before standing aside.
Burleanu told the BBC's World Football programme: "Taking into consideration that the Asian confederation already announced political support for Platini, I don't want to say that it is a mistake but politically, it's not a good step.
"I don't know how many votes he is expecting from other confederations, but from Europe, I'm expecting it to be very, very difficult for him."
Former Fifa executive Chung Mong-joon of South Korea has also indicated he will run in next year's election, as has Liberian FA president Musa Bility.
The election will be held on 26 February 2016.

Between them, Asia and Europe have 99 of the 209 votes that will be cast, and Burleanu does not think that Prince Ali should count on many of those going his way.
"Two months ago, we decided as a federation to support Michel Platini. It's not just a political decision. From my point of view, it has been proved that Uefa represents the model of success in football in comparison with all the other confederations.
"I strongly believe that a guy who's running in such an election has to prove what he did in the past."
The last four Fifa presidential elections
2011:
Blatter was unopposed because his rival Mohamed Bin Hammam, president of the Asian Football Federation, pulled out after being suspended over bribery allegations.
2007:
No other candidate was put forward to challenge Blatter.
2002:
Blatter saw off the challenge of Issa Hayatou, president of the African confederation Caf.
1998:
The Swiss succeeded Joao Havelange and won a bitter election against former Uefa president Lennart Johansson.