Lewis Grabban: Norwich City striker sorry for Rotherham 'actions'
Last updated on .From the section Football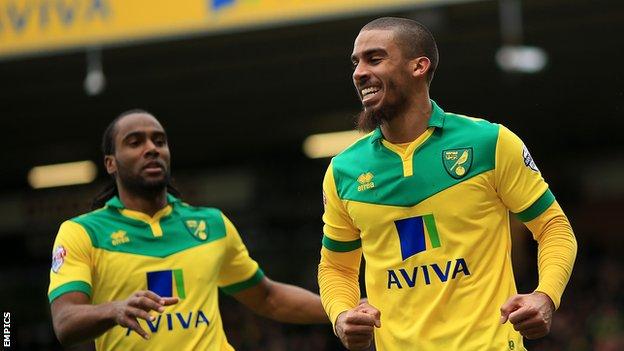 Norwich City striker Lewis Grabban has apologised following reports he walked out of the team hotel before their Capital One Cup match against Rotherham two weeks ago.
He was reportedly angry at this and declared himself unavailable.
"I'd like to apologise to the club and most importantly the Norwich fans for my actions," he said.
"Their support for me has been great since I joined and I really appreciate their passion for the club. The fans who travelled to Rotherham I especially apologise to.
"I've served a suspension and been fined, which I fully accept. Now I'm just determined to train hard and to let my football do the talking - and to do everything I can to help Norwich City do well."
The Canaries host Bournemouth this Saturday in the Premier League, with both seeking their second league win of the season.
And Cherries boss Howe feels no reason for any animosity between the two clubs, promoted out of the Championship together last year.
"I don't see why we should, to be honest," said Howe when asked if his team can expect a negative reception at Carrow Road.
"Certainly not from our side, and of course we hope from their side.
"We're competitors, we're two teams that were in the same league last year and fought a really good battle to try to get out of the Championship, and both sides were successful. And now we're going against each other in the Premier League it should be a good match."