Welling: Sahr Kabba banned for feigning injury against Tranmere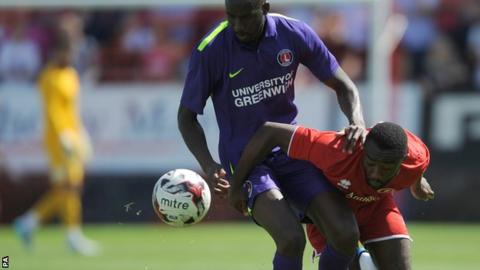 Welling striker Sahr Kabba has become the first player to be banned by the Football Association under a new rule against feigning injury.
Tranmere defender Ritchie Sutton was shown a red card in the 1-1 National League draw on Saturday, 5 September.
Sutton successfully appealed against the decision and Kabba has now been given a three-match ban for "exaggerating and feigning an injury in order to deceive match officials".
Kabba, 26, has also been fined £250.
Feigning injury to get opponent sent off
Under the rule introduced this season, a player who feigns injury and gets an opponent sent off could face a suspension.
Scenario
Player A is sent off for violent conduct
Dismissal overturned after the referee reviews the incident and sees that player B had feigned injury
Player B is open to a charge and could face a three-match ban