GPS systems in football: Plymouth Argyle boss wants clarity on use
Last updated on .From the section Plymouth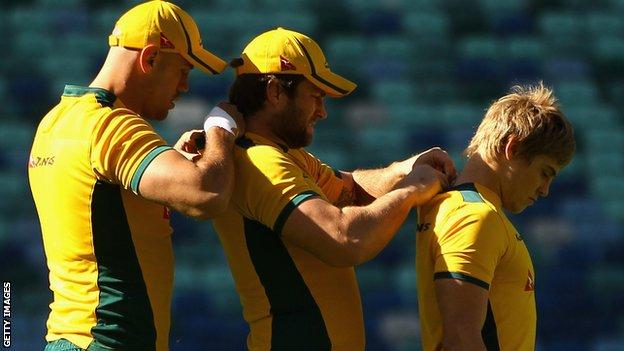 Plymouth Argyle manager Derek Adams wants the Football League to clarify the rules on GPS systems that are used by clubs to track their players.
Argyle's match at Wycombe was delayed by seven minutes after concerns over the devices worn by the hosts.
Wycombe were allowed to wear them, but Adams feels they are dangerous.
"We noticed that they had this system sticking out of their back. If somebody goes in and heads it, then that's a dangerous bit of equipment," he said.

The devices are positioned in in the backs of shirts and use global positioning technology to track how far and fast players run.
The systems are widely used by rugby teams as they track how their players are performing, but they are not as common in football.
"They (Wycombe) had provided an email to say that they had clarification from the League that they were able to start with it," Adams told BBC Radio Devon.
"But you're not allowed to wear rings or anything on the pitch."
The Football League on GPS
"Following FIFA's decision to permit players to wear Electronic Performance and Tracking System devices under the laws of the game, The Football League has also sanctioned their use in its competitions.
"Clubs were notified of this rule change in writing before the start of the current season and the matter was explained to club managers at their annual pre-season meetings.
"Any club seeking to use EPTS devices is required to notify the League and provide relevant details relating to how they will be worn and used. To date, 19 clubs, including Wycombe Wanderers, have registered their intention to use these devices."
Argyle went on to win the game 2-1, avenging their loss to the Chairboys in last season's League Two play-off semi-final.
"We've come away from home this season and won a good number of times, and it's important that you can do that," Adams said of his side, who have won three of their four games away from Home Park and are now second in League Two.
"We've shown how professional and how quickly we can play on the counter-attack, and that we can defend as well."