Celtic: Leigh Griffiths defends comments about Craig Thomson
Last updated on .From the section Football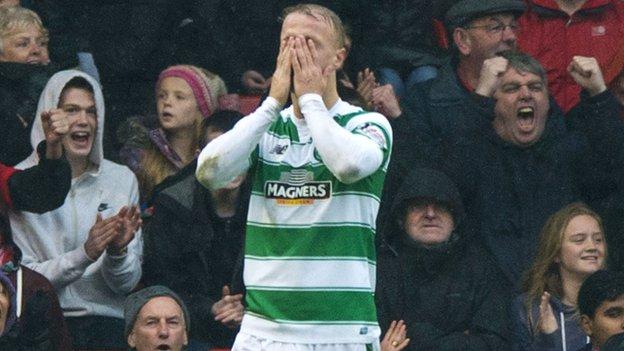 Celtic striker Leigh Griffiths has defended his comments about referee Craig Thomson, stressing he did not intend to imply bias or incompetence.
Griffiths said a yellow card shown to Aberdeen's Andrew Considine should have been red, and if a similar incident had happened inside Celtic's penalty area, their player would have been sent off.
The SFA are assessing those comments.
"I never said the referee was biased or not good at his job at all," Griffiths told Celtic's website on Monday.
"I've got a good relationship with Craig and I have total respect for him as a referee and a man.
"I spoke to Craig during the game and he told me the way he saw it.
"It's only my opinion and it might not have come across, but all I meant was with a home team, the atmosphere, the crowd and their players going in on him, a referee can be put in a very difficult position to make a decision to show a red card.
"That is not a criticism of Craig and there is no way I would question Craig in that way at all."

The yellow card shown to Considine by Thomson was for a challenge on Griffiths, who scored from the resulting penalty kick.
Aberdeen won the match at Pittodrie 2-1 to go top of the Scottish Premiership, but Celtic coach John Kennedy has dismissed that the Parkhead club are in turmoil.
"I'm hearing all this talk of unrest and everything else but it couldn't be further from the truth," he said.
"At the end of the day, we've had two disappointing results, that's what it is. All this talk of a crisis is rubbish, absolute rubbish.
"We can't write them [Aberdeen] off. We certainly don't have that mentality where we're the only ones competing here. But being Celtic, we're used to the pressure and it's very early in the season to be talking about title contenders."