Portsmouth: Johnny Ertl elected to Pompey Supporters' Trust board
Last updated on .From the section Portsmouth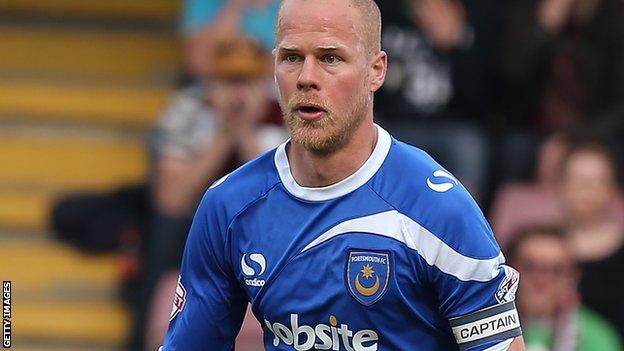 Former Portsmouth captain Johnny Ertl has been elected as a member of the Pompey Supporters' Trust (PST) board.
Ertl has called time on his playing career to focus on activities off the pitch with the PST, who are the club's principal shareholders.
"I'd like to bring a different perspective to the board from my playing days," Ertl told BBC Sport.
The former Crystal Palace and Sheffield United defender and midfielder's qualifications for his new post include a masters degree in business administration.
He also completed an FA qualification in corporate governance in April 2014 alongside Brighton manager Chris Hughton.
"I used Portsmouth as the case study for my masters dissertation, as I was writing about insolvency at football clubs," he said.
"The club was in dire straits at that time with a lot of broken promises. Nobody knew what was going on behind the scenes, they were difficult times and it made for quite an interesting subject."
Ertl hopes he can help increase membership of the PST and learn lessons from how other clubs in Europe are run.
"It's going to be an interesting story ahead with four new candidates joining the board," he added.
"When we all pull together in the same direction at this club not only can we get promoted on the pitch but, as a community club, we can move it forward off the pitch as well."