Ched Evans: Decision delayed on convicted rapist's case review
Last updated on .From the section Football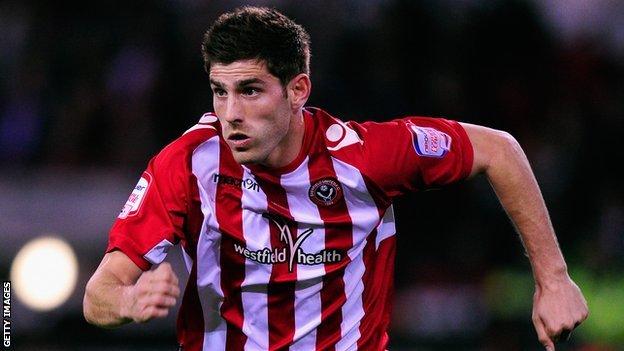 Ched Evans's latest attempt to overturn his rape conviction needs further assessment by a review panel before it decides whether to send his case to the Court of Appeal.
The former Wales and Sheffield United striker, 26, was jailed in April 2012 for raping a woman at a north Wales hotel, but maintains his innocence.
He provided new evidence to the Criminal Cases Review Commission (CCRC) panel to appeal against his conviction.
The three-man panel met on Tuesday.
"The Committee decided that further investigation was needed before it meets again to make a final decision on whether or not to refer Mr Evans's conviction back to the Court of Appeal," said a CCRC spokeswoman.
No date has been fixed for the commission's next meeting.
It has been investigating for 10 months after prioritising the review and could decide to send his case to the Court of Appeal.
To do that, the CCRC would need to believe that there was a "real possibility" of his conviction being quashed.
Alternatively, the panel could rule that further investigative work is needed or that there are no grounds to refer it to the Court of Appeal.
If that is the case, Evans can still respond before a final decision is made.
Evans was released from prison in October 2014 after serving half of his five-year sentence but attempts to resume his football career at League One sides Sheffield United and Oldham Athletic were met with widespread opposition.
An earlier attempt to gain permission to appeal against Evans's conviction was rejected by three judges at the Court of Appeal in 2012.
He has apologised "for the effects" of his actions in 2011, but has not spoken directly about his 19-year-old victim as he claims he was "told not to discuss the events in question" by lawyers.