Colin Sexstone joins Bristol Rovers board
Last updated on .From the section Football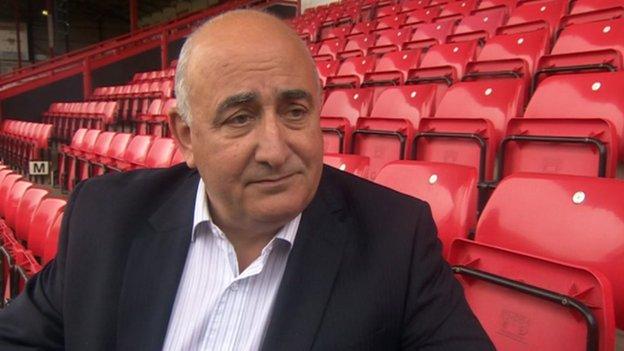 Former Bristol City chairman Colin Sexstone has joined the board at neighbours Bristol Rovers as a non-executive director.
Former roles also include being CEO at Gloucestershire County Cricket Club.
He said: "The fact I was involved with Bristol City for so many years will sit uneasily with some fans."
Sexstone, who left Argyle because of an ongoing illness with his wife, added: "That is always going to be an issue for some but, first and foremost, I'm a Bristolian. Sometimes our inner rivalry can get out of hand.
"My relationship with the Bristol Rovers board has always been excellent and my commitment now is exclusively with Rovers."
Sexstone says he hopes he can help the club build their fan base and deliver a new stadium, something he failed to do at Bristol City.
"There are over a million people in Greater Bristol and that is great opportunity for both clubs who really only just scratch the surface," he told BBC Radio Bristol. "The opportunity to win new supporters is huge.
"I'm excited about the prospect of helping to develop a new stadium, I've got unfinished business in that and would really like to see that.
"Developing a new ground is going to be key to their progression. It's central to everything."