Dundee United: Jackie McNamara not thinking about job safety
Last updated on .From the section Football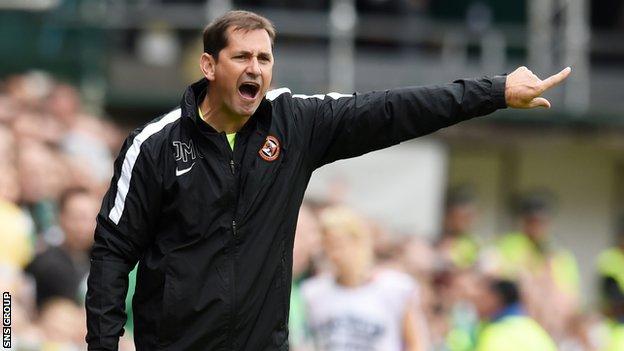 Dundee United manager Jackie McNamara insists that he will not approach Saturday's meeting with Inverness Caledonian Thistle fearing for his job.
The Tannadice side have lost their previous four games and sit second bottom of the Premiership.
But McNamara is confident his team can quickly turn their fortunes round.
"I don't go into games thinking about losing my job," McNamara says. "If I did that, it would block my ideas of winning the game."
United have won only once this season. That follows a poor run of form at the end of the last campaign when they won just three of their final 18 games, losing 12 of them.
McNamara has rebuilt areas of his team following the departure of regular players such as Radoslaw Cierzniak, Jaroslaw Fojut, Nadir Ciftci and, last January, Stuart Armstrong and Gary Mackay-Steven, with the latter three having been sold to Celtic.
And he says he has had no ultimatum from chairman Steven Thompson, who recruited him from Partick Thistle in January 2013.
"Everybody goes through it," McNamara said on the flak he is receiving from fans. "Just now it's a spell for me that's not been great, and the first time I've experienced that, but it will make me stronger in dealing with it the right way.
"[Criticism from the fans] is human nature. The fans pay good money to watch the team, they want to see the team winning and be successful, they're used to success in the last number of years. I've got no problems with that and hopefully I can turn that around.
"I speak to the chairman all the time. He'll be under pressure as well. It's a business to run and if things don't go well the chairman will feel that first and then it will trickle down to me. My focus, as it always is, is the next game.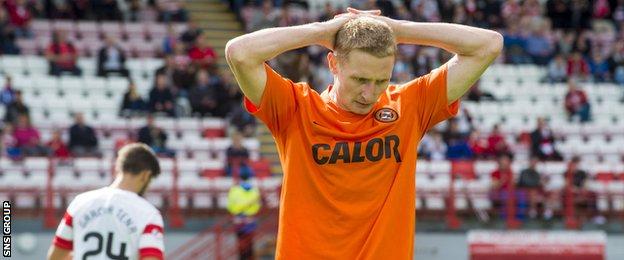 "If we keep losing them I'm sure we'll have that chat [about the future]. But I don't look at it that way. I look at winning on Saturday and then turning our attention to the League Cup game on Tuesday. It's an important spell for us and what's gone no before we need to make sure we put right.
"If I was a quitter, I would have done it well before now. I'm determined, not to prove people wrong but [to] go with what I believe. I believe I have a great set of players, I see it every day.
"It's there in the games. They're doing 80% of the things I want them to do, it's just doing the bit extra, the thin margins, being more clinical or seeing [games] through. There are a lot of things to improve on, but that's always been the case even when winning games."
McNamara has guided United to two cup finals as well as fourth and fifth-place finishes in the league.
"I'm not naïve enough to think everything's fine because of what's happened before," he added. "Whether or not we were successful, it's now that matters.
"The next game is the most important. Our results have not been fantastic and regardless of anything else, if you don't win games, the first person to suffer for that is the manager.
"I see the [players] not hiding from the ball, they're all trying things and being positive. I don't see them being scared to take responsibility. If I saw that then I'd be worried about the games coming up."