Kevin Phillips: Derby County bring in Leicester City coach
Last updated on .From the section Derby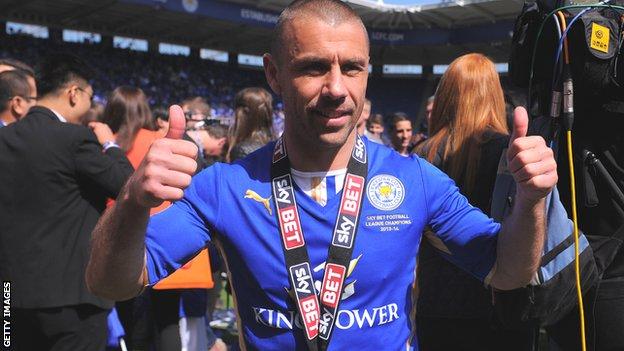 Derby County have appointed former England striker Kevin Phillips as assistant coach.
The 42-year-old, who scored 285 goals in 660 games during a 20-year playing career, had been at Premier League side Leicester, where he worked under Nigel Pearson and new boss Claudio Ranieri.
He joins John Peacock and Pascal Zuberbuhler in head coach Paul Clement's new-look coaching set-up.
"Kevin has a lot to offer with his skills and expertise," said Clement.
"He will complement the excellent individuals and skills that we have on the coaching team already.
Career of Kevin Phillips
Clubs:
Baldock Town (1991-1994), Watford (1994-1997), Sunderland (1997-2003), Southampton (2003-2005), Aston Villa (2005-2006), West Brom (2006-2008), Birmingham (2008-2011), Blackpool (2011-2013), Crystal Palace (2013-2014), Leicester (2014).
Honours:
Division One winner 1998-99, Golden Boot 1999-00, Championship winner 2007-08, Championship runner-up 2008-09, League Cup winner 2010-11, Championship play-offs 2012-13, Championship winner 2013-14.
"Kevin enjoyed an illustrious playing career. He was successful at a number of clubs, experienced being promoted to the Premier League on several occasions and his goalscoring record certainly demonstrates what an excellent striker he was.
"He is now embracing a new pathway in his career and has successfully made the transition from player to coach in the last year at Leicester City."
During a nine-club career, Phillips achieved promotion to the Premier League on five occasions, with Sunderland, West Bromwich Albion, Birmingham City, Crystal Palace and Leicester City.