Why beating Arsenal would end Chelsea's nightmare start

By Martin Keown
MOTD pundit
Last updated on .From the section Premier League

Chelsea versus Arsenal is always a massive occasion but Saturday's clash is even bigger than usual because it could be a defining game for both teams.
A win, no matter how they get it, would give the defending champions a shot in the arm and deflect the pressure from Mourinho on to Gunners boss Arsene Wenger.
Wenger is already getting some stick and that will intensify if Arsenal lose.
On the other hand, if his side beat Chelsea it would cause them huge damage - another defeat would leave their Premier League campaign in ruins.
Chelsea are like a wounded animal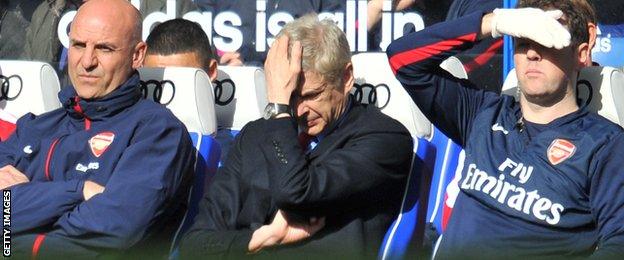 A couple of seasons ago, Arsenal really suffered in these Saturday lunchtime kick-offs against the other top teams.
They lost their away games against that year's top three, Manchester City,Liverpool and Chelsea, with an aggregate score of 17-4, conceding eight of those goals in the first 17 minutes of the games.
This time, they cannot afford a slow start or any sort of a hangover from their Champions League group defeat in Croatia on Wednesday.
The Gunners will need to have steel in their game from the off because Chelsea are like a wounded animal at the moment, and I think they might react by going on the attack.
After the week that Arsenal have had, they do not want to be conceding early at Stamford Bridge.
Coquelin now irreplaceable for Arsenal
I was in Zagreb to watch Arsenal's defeat by Dinamo and what disappointed me most was how the players who came into the team under-performed.
Wenger's side were starting a run of four away games in 11 days and clearly he had to use his squad and make some changes.
But it stuck out like a sore thumb that Mikel Arteta and Mathieu Debuchy, in particular, were not up to it. They have not played enough football recently, and they were not equipped for the task.
You could say that some of Arsenal's players let Wenger down, because he has trusted them and trusted his squad. It is now looking like it is not strong enough to cope.
The worst thing about it is that, when you look at the group of players Wenger has got to choose from, Francis Coquelin has now become almost irreplaceable because they do not have anyone else who can do his job as a disciplined defensive midfielder.
Missing out on Morgan Schneiderlin, who joined Manchester United in the summer, looks like a bigger blow now.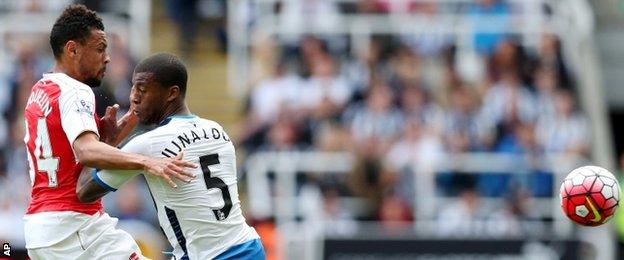 What has become obvious is that, no matter who Arsenal are playing, without Coquelin they do not have the necessary balance in midfield.
I was looking for Arsenal to lay down a real marker in their first Champions League game of the season in the way the big clubs often do.
For example, after seeing Real Madrid beat Shakhtar Donetsk 4-0, I am already kind of half-thinking Real are going to go all the way, even though the final is still months away.
With Arsenal, instead I am left thinking 'how have they got any chance of winning the Champions League?'
Mourinho is finally supporting his side
Chelsea's situation is different because we know how good this team can be - they won the title less than four months ago.
I think Mourinho has been a big part of what has gone wrong for them so far this season, and he seems to have realised that.
From the moment he threw his medal into the crowd after losing the Community Shield, he has appeared agitated and not necessarily in control, and that has had a knock-on effect on his players.
For me, Mourinho has been a bit too demanding of his team. There is a fine line between encouraging players and wringing a little bit extra out of them, and undermining them by creating too much intensity.
I think the message he has tried to give his players recently is 'I believe in you but I want more out of you' when perhaps it should have been 'I want you to give me exactly the same as last year'.
When he reacted to their poor start by naming some out-of-form players before they played West Brom, it was quite extraordinary.
No matter what Mourinho intended, if it had been directed at me then what he said would have left me thinking the gaffer does not think I am the player he was, because he seems very unhappy with everything I do.
I liked his change of approach after they lost against Everton on Saturday because he came out and finally tried to protect his players, saying they had been unlucky and were not getting the results they deserved.
I know he still made a number of changes and they did not have a difficult game against Maccabi Tel Aviv, but showing them some support still had the desired effect.
He seems to be reminding them that it is not long since they were champions, and that approach will always be far more successful than publicly criticising them.