Rangers: Mark Warburton keen on sporting director support

By Alasdair Lamont
BBC Scotland
Last updated on .From the section Football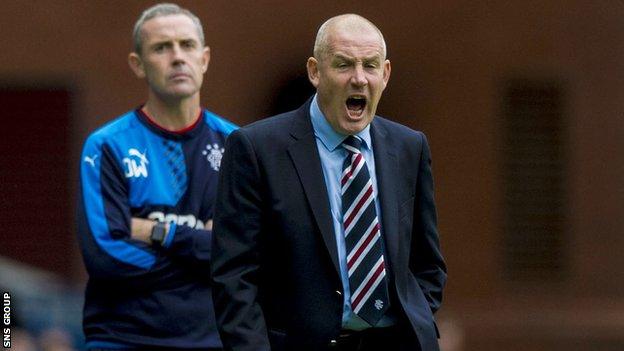 Rangers manager Mark Warburton has hinted he would welcome the future appointment of a sporting director.
Warburton performed the job at Brentford before taking on the manager's position, saying then it would be hard to combine both roles.
"As we move to the next level and the demands of recruitment become ever more intense then maybe we have to look at that position," he told BBC Scotland.
"I think you have to look at that, how we build."
'Moving nicely forward'
Warburton has made the perfect start at the Scottish Championship club, winning all 10 matches this season, but there is no sign of complacency as he plans ahead.
"Don't forget we're only three and a half months into the project. It's very early days and so we have to make sure we make the right decisions, don't rush into decisions, give it due diligence and homework and then move forward," he explained.
"I've done the sporting director's role, I know what's involved. You live on the phone 20 hours a day and the calls you have to make, the journeys you have to take. So to do that job properly, it demands full commitment.
"We're in a position now where we're moving nicely forward, we're making progress and we have to look at what we need to do now to move to the next level, so that's obviously a subject we'll talk about for sure."
The wider infrastructure is of critical importance to Warburton's view of the future at the club.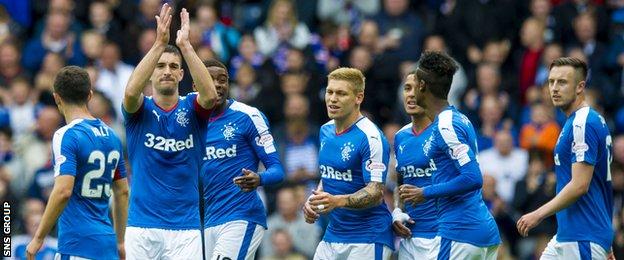 But though the lack of a scouting network, for instance, has been well documented, the manager stresses "it's about making the right decisions at the right time".
"When the right recruitment individual becomes available then we'll move," he went on.
"The board recognise there are certain holes within that structure but there's no immediate rush to fill them."
Academy hopes
Another of his key aspirations is for Rangers' youth academy to be recognised as a "market leader".
"A lot of work needs to be done but Murray Park is a magnificent facility - a Champions League training ground.
"I hope very much that we can work with the academy and continue to improve the end product and make sure those boys have a pathway to the first team."
In previous roles at both Brentford and Watford, Warburton was involved in collaborations between local schools and the clubs' academies, a model he feels sure would benefit Rangers.
"I was always told it's either sport or education - absolute nonsense," he continued.
"You can combine academic and sporting achievement. You have to work with the young players and make sure their schedule is conducive to their development on both fronts.
"If we can get that balance right, which I'm sure we will, we'll be in a good place."