Kamara revels in MLS limelight with rich goal-scoring form
By Oluwashina Okeleji
BBC Sport, Nigeria
Last updated on .From the section Football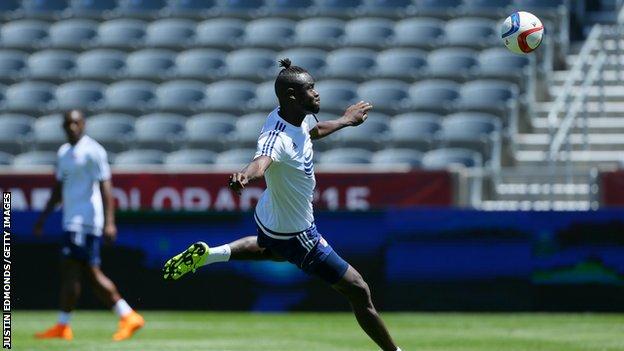 Sierra Leone international Kei Kamara believes he is in the best form of his life as he leads the top scoring chart in Major League Soccer with 20 goals.
The 31-year-old Columbus Crew striker's efforts this season have seen him jump into the top 20 scorers in MLS history with 72 career regular-season goals.
Kamara, who only returned to the MLS in January after brief spells in England with Norwich City and Middlesbrough, admits he is enjoying his football again, having scored 20 goals in 28 matches.
"I'm blessed because I'm in the best form of my life at the moment," Kamara told BBC Sport.
"I've been working hard throughout the years and I'm at the prime of my career getting on the ball, scoring goals, making goals and playing alongside a fantastic group.
"Leading the goals in the MLS against some really top strikers I say I'm blessed."
During his loan stint with Norwich, he became the first Sierra Leonean to score a Premier League goal by coming off the bench to head in against Everton in February 2013.
Kamara is revelling in his MLS success but hopes his achievement will pave the way for other players from his country to shine at the top level.
"I'm honoured to be the first Sierra Leonean to score in the Premier League and hopefully I won't be the last.
"Goals are flying in for Columbus Crew and everyone is talking about a Leone Star in the MLS, which is a positive thing for my country.
"I hope this will shed positive light on my country, and remind people that we have good players in Sierra Leone.
"It's not all about me because wherever I play I represent the nation, meaning I carry the flag of my country.
"I'm enjoying scoring at the minute and I hope that can translate more into the national team when I play for my country," said Kamara.
It has not been an easy time for the people of Sierra Leone as the country was severely affected by the Ebola crisis that struck West Africa.
In terms of football, the national team is banned from hosting matches at home and they are also without a permanent coach.
There has also been political in-fighting between the country's FA and the government backed breakaway group.
But things appears to be looking good for the national team as they played out a surprising 0-0 draw with reigning African champions Ivory Coast in Port Harcourt, Nigeria two weeks ago.
Kamara believes the positive result can help bring peace and has called for an end to the power struggle between the factions which has blighted the game in the West African nation.
"We achieved this result amid the turmoil; imagine if it will help bring the ministry and the federation together to bring peace to everybody," he said.
"Our collective desire as players is just bringing peace to football in Sierra Leone because if they put heads together and work together that's going to help our team, it's going to help the younger players grow.
"It's a shame because whatever happens back home or whatever things they are going through affects us, the players.
"People don't see all these things but if they can bring peace it will really help the growth of football for Sierra Leone."
Sierra Leone's next game is a 2018 World Cup qualifier on 10 October when they travel to Chad before facing the same opposition a few days later in the reverse fixture.