Turn on me, not players - Ian Baraclough

By Richard Wilson
BBC Scotland
Last updated on .From the section Motherwell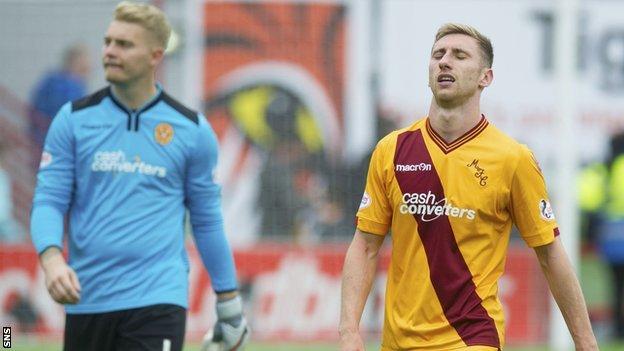 Ian Baraclough says that he would rather Motherwell fans vented their frustrations at him than the players.
The away fans made their discontent clear at the end of Saturday's 1-0 defeat at local rivals Hamilton.
Baraclough insists that the team just needs to be more ruthless in the final third, but wants to protect his players from any supporter criticism.
"I'd rather they turn on me and take their frustrations out on me rather than the team," said Baraclough.
"The team is there to be backed."
Motherwell had to defeat Rangers in the Premiership play-off last season to remain in the top-flight. That experience is still fresh in the minds of supporters, who are fearful of another campaign fighting relegation.
Motherwell have won only two league games this season, suffering five defeats, but Baraclough is adamant that the team is just taking time to gel and that the summer signings will eventually make the team better.
"Last season, it was too close for comfort," he said.
"Last season was about getting over the line; this season was about adding new recruits to the group and we're still in the early stages of them coming together.
"We'd love to be talking about a top four side, but some teams take longer to get it right.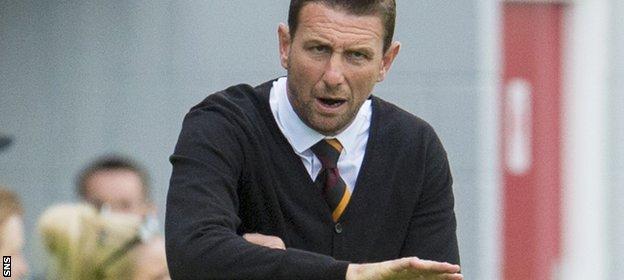 "It's a testing period and we have to be patient, some of these young players are just starting their careers and they need time. The pressure can get onto the backs of some of these young players so better that it's on me.
"I've had to pick myself up and the coaching staff [after the Hamilton defeat], then we move on to the players. I review the game on the Saturday night, I don't just put it straight to bed.
"We know there wasn't much in the game and we know we have to start turning them our way. Had we taken the chances we created, we'd have given ourselves a different scenario.
"It's not as if we're a team devoid of chances. We've hit the target on a good few occasions.
"We're getting in the right areas but we've got to be clinical and ruthless. The players have to do what comes naturally to them and not snatch at chances. We've got players who have scored throughout their careers."
Motherwell have an opportunity to put the Hamilton defeat behind them when they travel to face Morton in the Scottish League Cup on Tuesday night.
The expectation is that the Championship team could deliver a cup shock, but Keith Lasley believes that the Motherwell players are ready to prove the doubters wrong.
He also says that the memories of last season's relegation fight will drive the team on to ensure that they don't suffer a similar fate.
"There's no point feeling sorry for ourselves," he says. "Hopefully we can put on a good performance [against Morton] which hopefully gets a result and kickstarts our league form.
"There were a few upsets in the last round. I expect there will be a couple in this round but that's natural in cup football.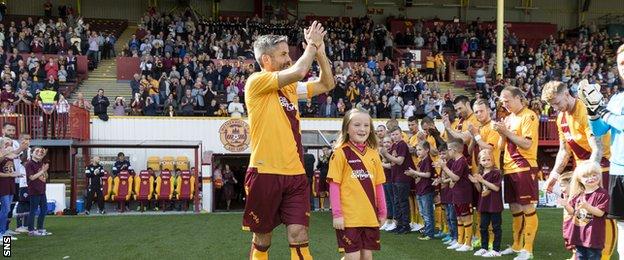 "Morton have got off to a good start in the Championship and is there much difference to some of the football played in the Premiership? Probably not.
"It's natural for people to see it as a possible shock but we've got to be confident that we can get a result.
"In the last round, East Fife were up for it and we expect it to be the same. We don't fear that. It's up to us to enjoy the challenge and be ready for it, and we hope our good players can take ownership of the game and create as we know we can.
"These are great games to play in. They bring a pressure, but I relish the challenge. People will be thinking there's a potential banana skin, so let's show those doubters wrong. I can't wait for the game to come round.
"We spoke in pre-season about getting off to a good start and it's no coincidence that the four or five seasons of success we had we built points early in the campaign.
"We don't want to get into that situation. We know it's early but also that there's a need to get points. We were here last year and it none of us want to go through that again. That will be driving us on to get up the table."