English clubs may lose fourth Champions League spot
Last updated on .From the section European Football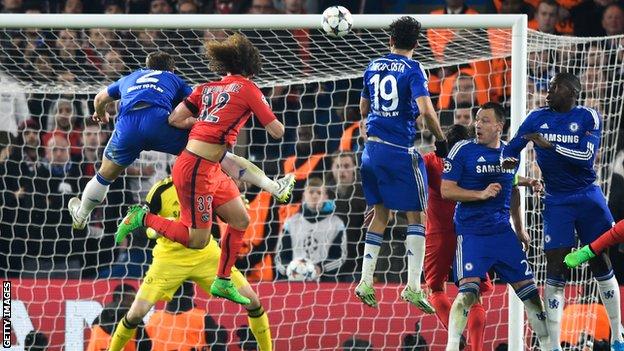 The Premier League is in danger of losing a fourth Champions League spot in the 2017-18 season if poor European performances continue this season.
New coefficient rankings, calculated over a five-year period, show England are third, behind Spain and Germany.
Italy are fourth, four points behind England. The top three ranked countries receive four Champions League places.
Performances in both Uefa competitions - Champions League and Europa League - are taken into consideration for the rankings with more points awarded in the elite competition (see tables at bottom of this page).
Points are awarded for qualifying for the group stages and then for each knockout round negotiated.
Four English teams have qualified for the group stages of this season's Champions League, against just two from Italy, thus earning more bonus points.
However, if last season's results were repeated - Juventus reached the Champions League final with Napoli and Fiorentina reaching the Europa League semi-finals - then Italy would jump ahead of England.
There are two English teams left in the Europa League and three from Italy.
The 2017-18 season will be the first where the 2010-11 season drops out of the reckoning.
That season saw Manchester United reach the Champions League final, where they were beaten by Barcelona at Wembley, while Tottenham and Chelsea made the quarter-finals.
How the points are calculated
Uefa: How country coefficients are calculated over a five-year period (external site)
Champions League
Qualifying/play-off round win - 1 point
Qualifying/play-off round draw - 0.5 points
Group stage participation - 4 points
Group stage win - 2 points
Group stage draw - 1 point
Round of 16 participation - 4 points
Clubs are awarded an additional point each time if they reach the round of 16, quarter-finals, semi-finals or final
Europa League
Qualifying/play-off round win - 1 point
Qualifying/play-off round draw - 0.5 points
Group stage win - 2 points
Group stage draw - 1 point
Clubs are awarded an additional point each time if they reach the quarter-finals, semi-finals or final
Current Uefa coefficient standings

2011-12

2012-13

2013-14

2014-15

2015-16

Total

Spain

20.857

17.714

23.000

14.642

4.642

86.427

Germany

15.250

17.928

14.714

13.857

4.428

68.177

England

15.250

16.428

16.785

12.857

3.625

65.659

Italy

11.357

14.416

14.166

19.000

2.666

61.605

Statistics correct as of 22 September 2015
English teams in the Champions League