Alderney football team quits league because of a lack of players
By Brent Pilnick
BBC Sport
Last updated on .From the section Football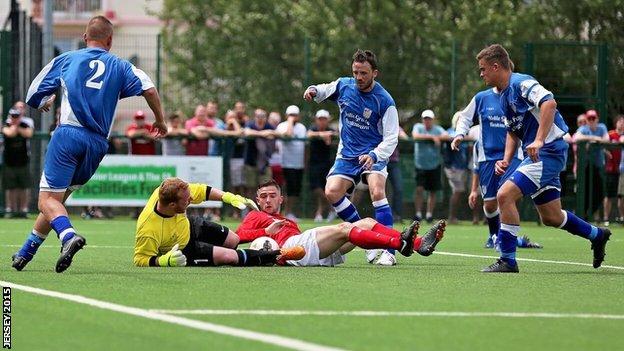 The only football club on the Channel Island of Alderney has been forced to pull out of their league as there are not enough players on the island.
Alderney Nomads are reigning champions of Guernsey's Jackson League - the second tier of football in Guernsey.
But a combination of injuries and players leaving to go travelling means there are not enough men to form an 11.
"We've lost nine players from the squad that we had last season," manager Alan Adamson told BBC Radio Guernsey.
"Some have got injuries, some have gone travelling for six months, while others have stopped playing to do other things like have families.
"It's been on the cards for a few seasons, but we managed to struggle through.
"Even last season we got away with it, but we only had a squad of 16 players. Luckily we managed to avoid injuries and suspensions as four players missed last season through injury," he added.
According to Alderney's 2013 census 1,903 people live on the most northerly Channel Island, a drop of 17% since 2001.
Fascinating facts about Alderney
Alderney is the closest British territory to Europe - it is just 10 miles from the French coast
The island was named Ridunia by the Romans, with Alderney people referred to as 'Ridunians'
Alderney was evacuated during the Nazi occupation of the Channel Islands in the Second World War, with the Germans building four concentration camps
The island is now a major centre for online gambling and hosts a number of well-known e-commerce firms
Over half the population are aged over 55, while the number of children has dropped by 50% in 12 years and the number of people aged between 20 and 39 has slumped by 47%.
"We've got no youngsters coming through," added Adamson, who has been involved with football since he moved to Alderney in 1990 to work as a dental technician.
"This is the second year in a row that there's been no junior league because we've just not got enough kids. We can't get two teams together to play."
Alderney's cause is not helped by the pull of Guernsey, with many of the island's youngsters moving to find work or to continue their education.
In fact, Adamson says it would actually be easier for him to field a side for an away match in Guernsey than a home fixture.
"Over the years the youngsters have come through and gone to Guernsey and we use them over there, but there's always been a hardcore of people here that help us along at home," he explained.
"But that's not happening, almost all the kids go on to college or other education and you can't afford to fly them back for a home game - it's not viable."
It means that Alderney's footballers will be limited to one match this season, as the island's 'national' side prepare to take on Guernsey for the right to face Jersey in the final of the Muratti Vase.

But without much football beforehand it is doubtful whether the island side will be able emulate the last time they won a match - in 1920 - when they face a Guernsey team that plays regularly in the English non-league system.
"The island team is spread all over," added Adamson, who led Alderney as they finished last at this summer's Island Games in Jersey, conceding 21 goals and scoring just three in their four games.
"We have to get them together from various parts of the UK. Some live in Scotland, some in England and some in Guernsey, so that's not a problem, the team that plays in the league is quite different from the team that plays for the island."
But Adamson hopes his team's demise is just a temporary blip and they can return to action next year, having played just one game this season - a 7-2 away loss to Guernsey Rovers reserves which saw the club able to field a squad of just 12.
"Hopefully we will get back into the league next year. That's our main worry, that the won't want us back," he said.
"You get a lot of moaning that teams have to come up here, so whether they let us back in is a different matter, but they have said we'd be welcome back, so that's great."