Dr Eva Carneiro: Chelsea departure disappoints FMA
Last updated on .From the section Chelsea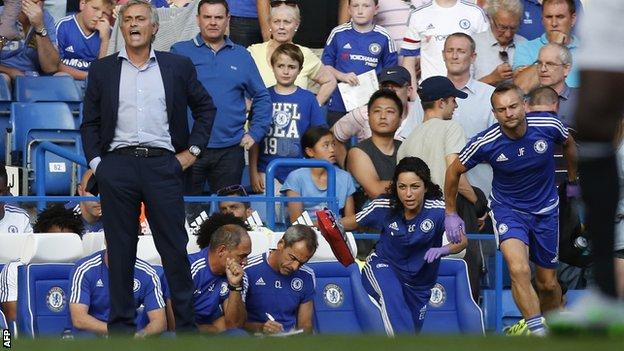 The Football Medical Association says it is "disappointed" after its efforts to negotiate a return to Chelsea for club doctor Dr Eva Carneiro failed.
Carneiro, 42, left the club on Tuesday, six weeks after being publicly criticised by Blues boss Jose Mourinho.
She had her role downgraded after Mourinho said his medical staff were "naive" for treating Eden Hazard during the 2-2 draw with Swansea on 8 August.
She is now considering her legal position.
A statement from the FMA, which represents medical and science personnel in professional football, said: "The FMA is extremely disappointed that Dr Eva Carneiro will not be resuming her full duties as first-team doctor at Chelsea Football Club.
"Having recently been contacted by Eva, we have offered our full support in attempting to negotiate a satisfactory outcome. Unfortunately this has not resulted in our preferred outcome."
The Football Association is looking into a complaint that Mourinho used abusive or sexist language towards her and Chelsea have said they do not comment on internal staffing matters.
Carneiro and physio Jon Fearn ran on to the pitch to treat Hazard late on during their home Premier League game against Swansea on the opening day of the season.
However, Mourinho was furious that his side, who had goalkeeper Thibaut Courtois sent off earlier in the match, were effectively down to nine men with Hazard required to leave the field after receiving treatment.
Carneiro had been Chelsea's first-team doctor, but was then told she could not sit on the bench and would no longer attend matches or training sessions.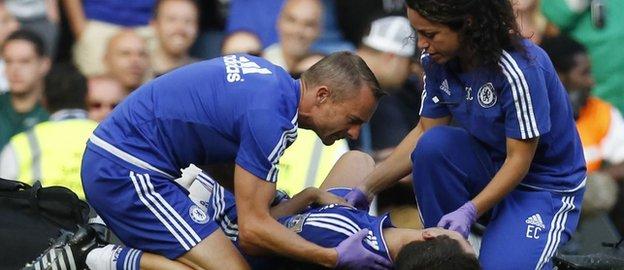 The FMA statement added: "The FMA strongly believe that in matters pertaining to a player's health and safety, respect for the integrity of the medical professional is paramount.
"The FMA will continue to offer support to Eva on a professional level through what is likely to be a difficult time.
"Chelsea considers this now to be an internal matter and it is for Chelsea and Eva's appointed lawyers to discuss any further action."
Who is Eva Carneiro?
Carneiro is a 42-year-old sports medicine specialist who was born in Gibraltar
She studied medicine at Nottingham University and completed her MSc in Sport and Exercise at Queen Mary University of London
Carniero previously worked at the British Olympic Medical Institute, with England Women's Football and UK Athletics, before joining Chelsea in 2009
Heather Rabbatts, the chair of the Football Association's Inclusion Advisory Board, has also expressed her "sadness and anger" at Carneiro's departure from Chelsea.
And Anna Kessel, from Women in Football, told the Victoria Derbyshire programme on BBC Two, that Carneiro was put in an "untenable position" at the club.