Jose Mourinho says 'retaliation now allowed' after Gabriel decision
Last updated on .From the section Football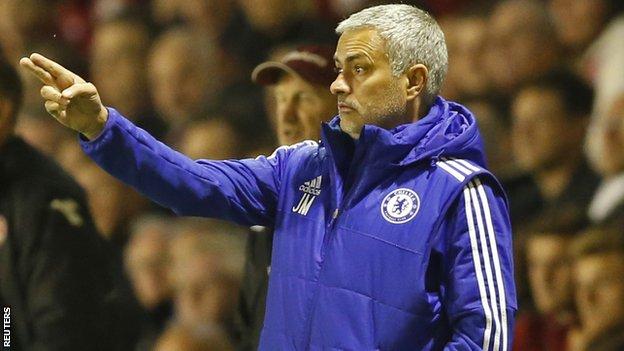 The Football Association has set a dangerous precedent by rescinding the red card given to Arsenal's Gabriel, says Chelsea manager Jose Mourinho.
Defender Gabriel was sent off for kicking Diego Costa in Chelsea's 2-0 Premier League win on Saturday.
Mourinho said: "Now we know that retaliation is allowed. No problem, you can do it."
Costa was banned for violent conduct for the incident with Laurent Koscielny which led to Gabriel's sending-off.
Arsenal boss Arsene Wenger said the decision to suspend Costa repaired only "5% of the damage" of his side's defeat at Stamford Bridge.
Mourinho said he had not spoken about Costa's three-match ban for fear of being suspended.
"If I bring feelings into the discussion a big suspension will be waiting for me and I don't want that," he said.
"The team lost an important player for three matches and I don't think they need to lose their manager.
"It's easier to accept an injury but this kind of situation goes much more deeper in feelings and the team is hurt."
Wenger said of the FA: "It just shows that they decided after the game what should have happened during the game.
"They repair 5% of the damage which has been done to us. Instead of us playing 11 against 10, we played 10 against 11.
"One or two situations in the game are very difficult to understand when you watch it again."
The FA charged Gabriel with improper conduct for failing to leave the pitch immediately after being sent off, and both clubs with failing to control their players.
Gabriel, Arsenal and Chelsea have until 18:00 BST on Thursday to reply to those charges.