Jose Mourinho: Chelsea boss appears to criticise Arsene Wenger
Last updated on .From the section Football
Chelsea manager Jose Mourinho has appeared to criticise Arsenal counterpart Arsene Wenger, "the king" who is "not under pressure".
Wenger thought goading from Chelsea striker Diego Costa led to Gabriel's red card in last weekend's meeting.
Mourinho, not naming anyone, said: "He can speak about referees, push people in the technical areas, can cry in the morning and afternoon, nothing happens.
"Cannot achieve, keep his job, can still be the king, it is privilege."
The pair have had a long-running rivalry, with Mourinho famously calling Wenger a "specialist in failure".
"In this country only one manager is not under pressure, every other manager is under pressure," Mourinho said.
"Manuel Pellegrini, Brendan Rodgers, Steve McClaren. We cannot lose matches, we cannot be below expectations."
When asked who he was referring to, Mourinho said: "You know."
'If I answer I am going to be suspended'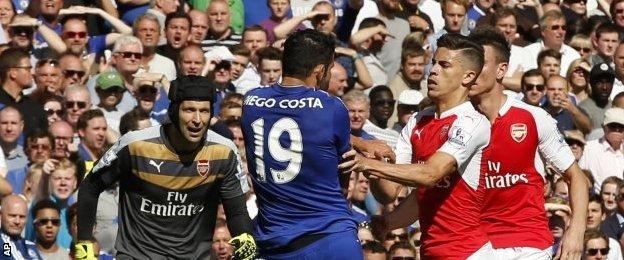 Costa put his hands in Arsenal defender Laurent Koscielny's face during Saturday's 2-0 win over Arsenal before clashing with Gabriel, who was sent off.
Wenger said the Football Association should look into how Costa escaped a red card. The FA overturned Gabriel's red card, although later banned him for a game for improper conduct, and handed Costa a three-game ban.
In the news conference for Saturday's game with Newcastle, Mourinho was asked if he was frustrated at not receiving the written reasons for Costa's ban.
"Your question is clear, you don't need my answer," he said. "It is not normal but nothing more to say.
"If I answer I am going to be suspended. I don't comment because in the rule book it says some managers can speak about the referee before and after the game and others cannot. I am in the ones that are punished if they do. I have to stick with that rule book."