Motherwell 2-1 Partick Thistle: Stephen Craigan hails resilience
Last updated on .From the section Football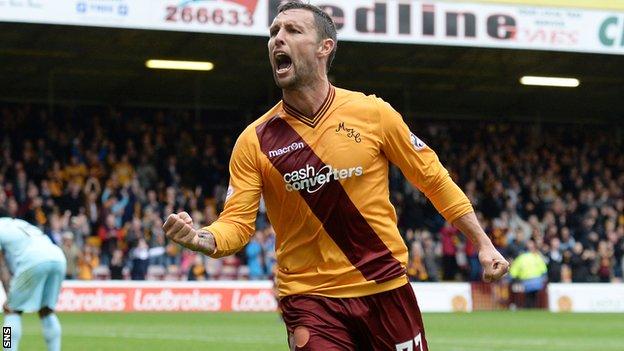 Interim Motherwell manager Stephen Craigan praised his new charges after they secured a 2-1 victory over Partick Thistle on Saturday.
"I'm delighted for the players - it's not about me," Craigan told BBC Scotland. "It's going to be made out now that there's been freshness from me; that's not the case.
"The players won the game, not me."
Baraclough's dismissal followed a midweek League Cup exit to Morton, but 'Well bounced back to claim three points at the expense of lowly Thistle.
"It was a little bit of a nervous performance, but I expected that, because of the trauma during the week," added Craigan. "That's a huge disappointment for a lot of the players.
"We've only really had one day training since Morton, there was a little bit of information given to them. I said to them pre-match it was going to be about how they would respond, could they find something within themselves that would motivate them and push them over the line when times were tough.
"They stuck to their task, they worked hard. Whether we deserved the three points or not, I'm not really bothered."
Club owner Les Hutchison said some among the playing contingent ought to "hang their heads in shame" over Baraclough's dismissal, but Craigan feels players are able to put such comments aside when the action starts.
"When the game kicks off you don't start thinking about what people have said about you - that's all to do with the build-up," said Craigan.
"Les can say what he wants. Let's be honest, he's the man with wealth, he puts money into the club, he looks after the players.
"The players are treated very well, so its a little bit of reward for him but there has to be a lot more reward coming that way."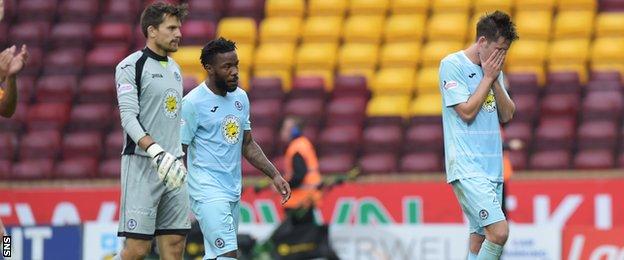 While Motherwell seek something of a fresh start, Thistle boss Alan Archibald is tasked with arresting a run of poor form, and toothless attack that has seen his side score just three goals in their opening nine Premiership fixtures, winning none.
"Hopefully that's the monkey off the back goal-wise, but I'm still disappointed not to get anything from the game," he said. "At least a point - I thought our play merited that.
"I'm just concerned about the gap opening up at the bottom of the table. We're still within touching distance of teams but we have to get that victory.
"I think the way we played today there was a lot to take heart from, we can go and be positive on the back of that."