Garth Crooks's team of the week: Sanchez, Mata, Coutinho, Kane

By Garth Crooks
Football Analyst
Last updated on .From the section Football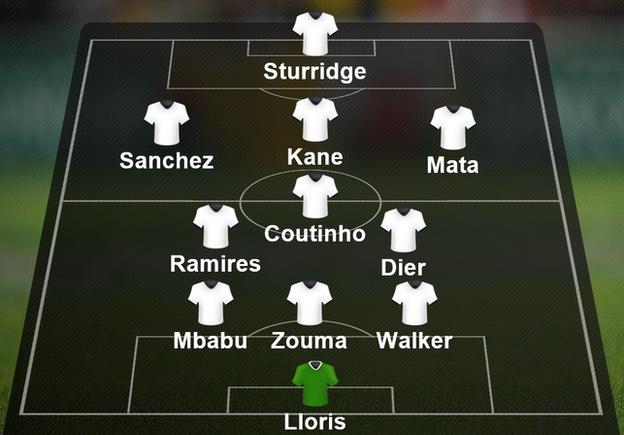 Another thrilling, goal-packed Premier League weekend saw Manchester United return to the top of the table for the first time in more than two years.
Newcastle found some belief - if not three points - in a battling draw with Chelsea, while Leicester and Arsenal entertained us in a seven-goal thriller.
But who were the standout performers? Here's my selection - do you agree?
Goalkeeper - Hugo Lloris (Tottenham)

Tottenham's win against Manchester City was largely down to the exploits of Hugo Lloris. His save from Raheem Sterling when Spurs were trailing 1-0 was world class and a turning point in the game. He went on to make another string of important saves, which served to strengthen the belief Spurs could win the match.
I've said it before and I'll say it again - if Tottenham have any chance of claiming a European spot this season, they will have to keep Lloris fit.
Defender - Kyle Walker (Tottenham)

I remember this lad when he was trying to make a name for himself when he was on loan at Aston Villa. Injuries have mostly inhibited the progress the England international was making since his return to the Lane, but against Manchester City he looked commanding.
There was a moment in the first half when Walker refused to let Sergio Aguero get past him in order to attack the ball from a set-piece - much to Aguero's annoyance. It was that determination and presence that I detected when he was making his way into the England squad and it's nice to see it in his performances once again.
Defender - Kurt Zouma (Chelsea)

It was a brave decision by Jose Mourinho to again leave out John Terry for Kurt Zouma, but one that was totally justified. Yes, the youngster will make mistakes, a feature demonstrated when Chelsea conceded their first goal, however that is not the point.
Zouma is getting better with every game and Chelsea look like a team that no longer has to worry about pace in the opposition ranks. His sensational 50-yard pass to Eden Hazard was the trigger for Chelsea's success and resulted in Ramires's stunning goal. The point is, and unpalatable as it might seem for some, Zouma is the future and Terry is the past. Time, I'm afraid, catches up with all of us in the end.
Defender - Kevin Mbabu (Newcastle)

As far as Premier League debuts go, I don't think Kevin Mbabu could have done any better. The 20-year-old was playing against Spain international Pedro, who for much of the game got nothing out of the youngster, which tells you all you need to know about the quality of this performance.
Last week on Final Score I questioned whether Newcastle boss Steve McClaren could manage as effectively as he could coach. The jury is still out for me but if he has the courage to play youngsters such as Mbabu, who are keen to prove themselves against the champions, at the expense of players who have been tried but are comfortable then I may have misjudged him.
Midfielder - Ramires (Chelsea)

When I pick a substitute for my team of the week you can rest assured he has had a massive impact on the game. I don't know who deserves more praise, Mourinho for making the change at such a crucial time in the match or Ramires for believing he could actually make the difference.
Ramires could have scored a hat-trick in a matter of minutes such was his impact after coming on in the second half, but it was his sensational strike that turned the game back in Chelsea's favour. Be warned Manchester United and Manchester City, I saw a second-half performance from the Blues that reeked of hunger and desire. This game might prove to be a defining moment in Chelsea's season.
Midfielder - Eric Dier (Tottenham)

What a revelation this holding position in midfield is proving to be for Eric Dier. Not only is he the first name on Mauricio Pochettino's teamsheet these days, he looks imperious in front of his two centre-backs. What makes this position so exciting, particularly if you're a Spurs fan, is Dier occasionally goes walkabout looking for goalscoring opportunities.
His finish against Manchester City, who played like a team feeling sorry for themselves in the absence of Joe Hart, David Silva and Vincent Kompany, was so well struck and so timely it left City reeling. An excellent performance by Dier against a team with lots of good players but no backbone.
Winger - Alexis Sanchez (Arsenal)

It was always going to take a performance like this to unseat Leicester City. This was Alexis Sanchez and Arsenal back to their counter-attacking best. Quite frankly, I'm amazed Sanchez is playing like this at all.
This lad only finished playing football for Chile in the Copa America when players were reporting back for pre-season training.
Arsene Wenger may have wanted to give him more rest, but it is just as well he can rely on Sanchez. I can't see anyone else in his side he can put his title hopes on at the moment.
Midfielder - Philippe Coutinho (Liverpool)

Bearing in mind all the speculation surrounding Liverpool boss Brendan Rodgers, and with his team facing an Aston Villa side also in desperate need of points, it was just as well Philippe Coutinho was on top of his game. The Brazilian prized open Aston Villa's defence almost at will, leaving Tim Sherwood facing his first managerial crisis.
Strange that, because if Liverpool had lost to Villa it would have been Rodgers facing a crisis. At least Coutinho's brilliant performance has bought Rodgers time to get Christian Benteke and Jordan Henderson fit again. With all of them available for selection, and Daniel Sturridge coming back to full fitness, they just might save him his job.
Winger - Juan Mata (Manchester United)

It is with some irony that I find Chelsea struggling at one end of the table and Manchester United on top. It would be remiss of me not to mention Juan Mata at this point; the man who Mourinho couldn't wait to get out of the revolving door at Stamford Bridge.
It has been Mata's consistent performances for the Red Devils under Louis van Gaal that have helped transform their season. Mata was instrumental in United's victory over Sunderland and should they win the title, his departure could prove to be Mourinho's final embarrassment.
Forward - Harry Kane (Tottenham)

And about time. No-one said his second season was going to be easy for Harry Kane but I can't help feeling he could help himself by just keeping the game simple. He had a wonderful opportunity to slip Christian Eriksen in on goal in the second half against Manchester City and ignored him.
It's so important, particularly when things aren't going well for you, to keep it simple. You could feel the Spurs fans breathe a huge sigh of relief when Kane scored a wonderful, instinctive goal. Title favourites City looked like a team playing together for the very first time and Kane took complete advantage of the situation like all good strikers should.
Forward - Daniel Sturridge (Liverpool)

If you want to see a top-class finisher at work then you should look no further than Daniel Sturridge. He's been out with injury for an age but he's lost none of his predatory instincts. His first goal against Aston Villa was a volley taken out of the Paulo di Canio school of finishing.
However it was his composure and the sheer authority as he stroked his second goal past Brad Guzan that left me breathless. Rodgers knows exactly how to manage Sturridge's fitness levels and originally lost the player to injury while on international duty for England. A repeat of such an unfortunate mishap could cost Rodgers far more than the player's services this time around.